Search Our Site:

Pheasant and quail are popular entrees at Brush Dale, as are wild duck and deer. Besides tasty wild game recipes, you'll find scrumptious ways to serve garden vegetables and delicious desserts. Lodge Recipes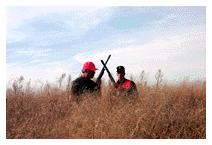 Brush Dale Hunting Preserve's location very near Iowa's Mississippi River border makes it the perfect weekend getaway; convenient for corporate hunts; and a central location for your NAVHDA chapter's or dog club's conferences, training days, fun hunts, and testing grounds. Brush Dale is just 3 hours from Chicago or Milwaukee, 2 hours from Madison, 6 hours from the Twin Cities, 5 hours from Sioux City or St. Louis, and less than an hour from the Quad Cities.

Train your versatile hunting dog for field and water work at Brush Dale year round. Pen-raised birds can be legally shot in conjunction with hunting dog training activities year-round in Brush Dale's designated training fields. We have ponds with gradual slopes to swimming depth that are perfect for introducing pups to water. For those training towards the NAVHDA Utility Test, Loch Ness Pond works very well for training steadiness at the blind and retrieve of a duck. Our Wetland and Wood Duck Ponds are good places to begin working on the Duck Search. Don't know how to get started training the Duck Search? We can help. And when you and your dog are ready, we'll direct you to public migratory waterfowel sanctuaries located within minutes of Brush Dale to train in Test-quality marshes.
More Hunting Information