Search Our Site:

Pheasant and quail are popular entrees at Brush Dale, as are wild duck and deer. Besides tasty wild game recipes, you'll find scrumptious ways to serve garden vegetables and delicious desserts. Lodge Recipes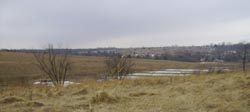 In 2005, an additional 40 acres of land adjacent to the Northern Prairie & Grassland was purchased for its potential to be rehabilitated into a wetland area, further diversifying the Preserve's landscape. With the assistance of the Iowa DNR, the land was reshaped with bulldozers, eight terraced ponds were created, and marsh plants planted. The Preserve's largest pond, Wood Duck Pond, was also built. It occupies one acre on the west side of the wetlands.
More photos and information will be coming soon!