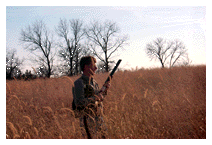 At Brush Dale, we specialize in pheasant hunting on restored Iowa Grasslands. Our goal is to give you the most natural pheasant hunting experience possible in a preserve setting. You will be hunting a mixture of wild and released pheasants in exceptional cover. Pheasant reproduction is both critical to providing a natural pheasant hunting experience at Brush Dale and to sustaining the wild pheasant population. We typically release more than 200 pheasants and more than 300 quail from our three gamebird surrogators every year. The Preserve has eight large food plots planted in corn and several smaller food plots planted in canola seed, millet, sorghum, sunflower and more for pheasant, quail and deer.

We handle the release of pheasants differently than most preserves in our area. Very early in the morning of your scheduled AM hunt, while it is still dark outside, we'll release the total number of pheasants included in your hunting package. (For PM hunts we release approximately one hour prior.) For example, for a full-day hunt for 4 gunners, we'll release 48 pheasants. This gives the birds a chance to acclimate to their surroundings and "wild up" before the hunt. By doing it this way, we've found the released pheasants behave very wild and make for a challenging hunt. Although you will likely see a lot of pheasants, weather conditions, skill level of the dogs and shooting ability all play into how many birds are bagged. If your goal is to shoot a ton of birds, then Brush Dale is probably not where you'll want to hunt. But if you want a hunt where you and your dogs' skill will be challenged on every bird - then Brush Dale is the place for you!

We offer full-day and morning-only pheasant hunts 7 days per week and afternoon-only hunts on weekends and holidays. When the weather is warm and dry, particularly on a windy day, hunting in the afternoon can be extremely challenging. The reason for this is two-fold: scenting conditions are terrible and the roosters will be running like crazy. For this reason, we do not recommend hunting in the afternoon during this type of weather.

Brush Dale is unique, not only because of the diversity of its terrain and wild game, but because of its location in far-eastern Iowa, just 10 miles from the Mississippi River and the River's abundance of waterfowel. In addition to pheasant, we hunt quail, wood ducks, wild turkey, and

furred game

. During duck season we might spend the early morning hunting wood duck at one of our ponds and the rest of the day hunting pheasant. During Fall deer seasons, we often hunt deer in the mornings and pheasant in the afternoons.

If you are a visitor to Iowa, pheasant hunting at Brush Dale will save you a significant amount of money in hunting license fees. Preserve Hunting Licenses, for hunting game birds on any of Iowa's hunting preserves, as well as most other

Iowa Hunting Licenses

may be purchased at Brush Dale. All hunting licenses may be purchased

online

, or by calling 800-367-1188. A Preserve License with Habitat Stamp is just $20.00, whether purchased by an Iowa or out-of-state resident.