Pheasant and quail are popular entrees at Brush Dale, as are wild duck and deer. Besides tasty wild game recipes, you'll find scrumptious ways to serve garden vegetables and delicious desserts. Lodge Recipes

Information on special events, discount coupons, litter announcements, training tips, game recipes, and more
[Subscription Manager] [Archives]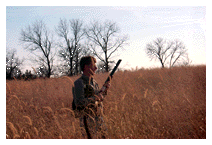 At Brush Dale, we specialize in pheasant hunting on a restored Iowa Prairie. Our goal is to give you the most natural pheasant hunting experience possible in a preserve setting. You will be hunting a mixture of wild and released rooster pheasants in exceptional cover.

Wild pheasant reproduction is both critical to providing a natural pheasant hunting experience at Brush Dale, and to sustaining the pheasant population in eastern Iowa. In addition to providing suitable, year-round food and cover, we release and harvest only rooster pheasants during the preserve hunting season (September 1st to March 31st). On the last day of March, we release a minimum of 100 hens. We've found that releasing the hens at this time increases their survival and reproduction rates. Although it's legal to shoot hens on a preserve, because the hens you'll see are wild, or have survived for several months in the wild, we request that hens not be intentionally taken.

We handle the release of pheasants differently than most preserves in our area. The evening prior to your scheduled hunt, we'll release no fewer than twice the total number of rooster pheasants included in your hunting package. For example, for a full-day hunt for 4 gunners, we'll release at least 48 roosters. This gives the roosters a chance to acclimate to their surroundings and "wild up" before the hunt. By doing it this way, we've found that even our released pheasants behave very wild and make for a challenging hunt. Although you will see a lot of pheasants, weather conditions, skill level of the dogs, and shooting ability all play into how many birds are bagged. If your goal is to shoot a ton of birds, then Brush Dale is probably not where you'll want to hunt. But if you want a hunt where you and your dogs' skill will be challenged on every bird - then Brush Dale is the place for you!

Brush Dale is unique, not only because of the diversity of its terrain and wild game, but because of its location in far-eastern Iowa, just 10 miles from the Mississippi River and the River's abundance of waterfowel. In addition to pheasant, we hunt ducks, wild turkey, and

furred game

. During duck season we might spend Saturday hunting duck at

Green Island

and Sunday hunting pheasant at Brush Dale. During Fall deer seasons, we often hunt deer in the mornings and pheasant in the afternoons.

If you are a visitor to Iowa, pheasant hunting at Brush Dale will save you a significant amount of money in hunting license fees. Preserve Hunting Licenses, for hunting game birds on any of Iowa's hunting preserves, as well as most

Iowa Hunting Licenses

may be purchased at Brush Dale,

online

, or by calling at 1-800-367-1188. A Preserve License with Habitat Stamp is just $20.00, whether purchased by an Iowa or out-of-state resident.

Check out our

Hunting and Training Packages

, or have us put together a custom upland hunting package for you. We can create a unique hunting experience that includes both on- and off-Preserve hunting for

furred

and/or feathered game.
The table below shows the on-Preserve and off-Preserve hunting seasons and bag limits for upland birds and waterfowel that may be hunted at or near Brush Dale. On-Preserve information is bolded. All other information applies to hunting both Off-Preserve and On-Preserve. Waterfowel seasons are for the Iowa South Duck Zone and South Goose Zone (in which Brush Dale is located).
SPECIES
2011-12 SEASON
SHOOTING HOURS
BAG LIMITS
(dates inclusive)
(daily)
(possession)
Rooster Pheasant
(Resident Youth Age 15 or Younger)
Oct. 22 - 23
8:00 a.m. to 4:30 p.m.
Sunrise to Sunset
1
2
Rooster Pheasant
Oct. 29 - Jan. 10
Sept. 1 - March 31
3
none
12
none
Bobwhite Quail
Oct. 29 - Jan. 31
Sept. 1 - March 31
8
none
16
none
Chukar Partridge
Sept. 1 - March 31
none
none
Resident/Nonresident Spring Turkey
(Gun/Bow)
April 7 - 15 (season 1)
April 20 - 24 (season 2)
April 25 - May 1 (season 3)
May 2 - 20 (season 4)
1/2 Hour Before Sunrise
to Sunset
One bearded or male turkey
per license #
Resident Youth Spring Turkey
(Gun/Bow)
April 7 - 15
Resident Spring Turkey
(Bow Only)
April 16 - May 20
Resident Fall Turkey
(Gun/Bow)
Oct. 10 - Dec. 2
1/2 Hour
Before Sunrise
to 1/2 Hour
After Sunset
One turkey per license
Resident Fall Turkey
(Bow Only)
Oct. 1 - Dec. 2
Dec. 19 - Jan. 10
Gray Partridge
Oct. 8 - Jan. 31
Sunrise to Sunset
8
16
Ruffed Grouse
Oct. 1 - Jan. 31
3
6
Mourning Dove
Sept. 1 - Nov. 9
1/2 Hour Before Sunrise to Sunset
15
30
Crow
Oct. 15 - Nov. 30
Jan. 14 - March 31
none
none
Pigeon*
Oct. 1 - March 31
Ducks
Sept. 17 - 21
Oct. 22 - Dec. 15
1/2 hour before sunrise
to sunset
6, including no more than 4 mallards (of which no more than 2 may be female), 2 wood ducks, 2 redheads, 1 black duck, 1 pintail, 2 canvasback and 2 scaup
twice the daily bag limit
Mergansers
5, including no more than 2 hooded merganser
Coots
15
Canada geese (special season)
Sept. 3 - 11
2
Canada geese
Oct. 1 - 16
Oct. 22 - Jan. 11
2
Brant
1
White-fronted geese
Oct. 1 - Dec. 13
2
Light Geese
Oct. 1 - Jan. 13
20
none
Woodcock
Oct. 1 - Nov. 14
sunrise to sunset
3
twice the daily bag limit
# No person can have more than 2 Spring turkey licenses
* Exception: Within 100 yards of buildings and bridges pigeons may be taken year round