Search Our Site:

Pheasant and quail are popular entrees at Brush Dale, as are wild duck and deer. Besides tasty wild game recipes, you'll find scrumptious ways to serve garden vegetables and delicious desserts. Lodge Recipes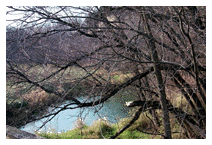 After decades of having cattle grazing along its banks, Brush Creek is being restored to its rightful splendor. Brush Creek, which is one of Iowa's DNR-stocked trout streams, runs for approximately 4 miles through the center of the Farm's property. The cattle were removed from the creek bottom in the Fall of 1998. The process of stabilizing the creek bank through the planting of shrubs and bushes has begun and is already showing its success. The Creek is fed by hundreds of underground springs, and without the cattle, the water is running clear again.
More photos and information will be coming soon!