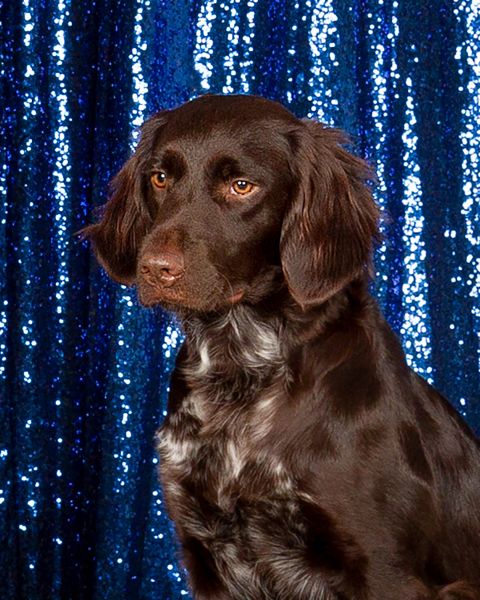 IntCH/NatCH Brush Dale's Va Va Voom (Grace)
was born on October 8, 2017 as part of Brush Dale's
V Litter
. Grace's sire is
IntCH Dag Zimni Vrch (Ozzie)
and her dam is
IntCH Brush Dale's Brown-Eyed Girl (Tess)
. Grace earned her International Champion title at the IABCA International Conformation Show on 4/14/19. Grace has a dense, soft, silky, dark roan coat with beautiful feathering on her ears, legs and tail. Her coat is correct for a Small Munsterlander. She has dark brown eyes and an expressive face. Grace weighs about 42 pounds and is 51.5cm tall.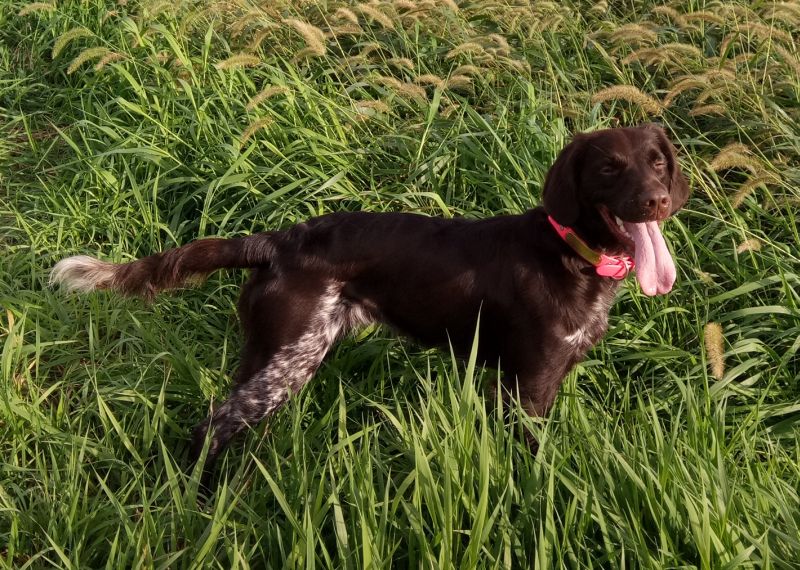 THE HUNTRESS
Grace's excellent physical structure allows her to move gracefully and effortlessly through cover, making her beautiful to watch in the field. Grace is a highly cooperative, methodical hunter who hunts closely. She prefers to quarter close to the gun until she catches scent, and then she moves quickly, but cautiously, toward the bird until she establishes point or takes a track. Grace is an exceptional, persistent tracker who tracks with her nose close to the ground. She will stay on track until the bird holds or she is called off. Grace honors point naturally, hunts well as a team with our other dogs, and has become an excellent guide dog for the Preserve. Whenever we are guiding for people who need to walk somewhat slowly during the hunt (e.g. children, seniors), Grace is always chosen to be part of the hunting team.
Unfortunately, Grace's NA Tests scores in Search and Pointing do not do her justice, although she was deserving of the scores she received that day. It was a tough test day for both Michelle and Grace. Michelle had the flu, so the hours they waited for their turn in the field were spent sleeping in the truck. Half the field was covered in standing water, which was something Grace had never encountered. Initially, Grace was intent on tracking the 4-wheeler used to plant the birds, but once Michelle got her off the track, into cover and onto some other scent, things went better. Grace tracked her first chukar down a path where she found the bird sitting out in the open. Grace flushed that bird, as expected, and a chase ensued with the bird getting away in the woods. The next bird held in cover and Grace pointed it beautifully, holding until Michelle flushed. Unfortunately, because of all the time spent tracking and chasing, those were the only two birds Grace found before her field time was up. The remainder of Grace's test was flawless, with maximum scores in swimming and tracking.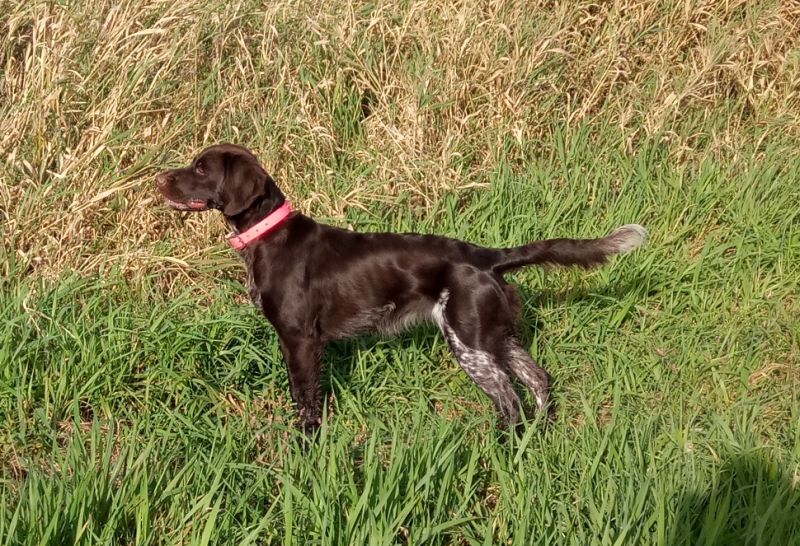 Grace's style of pointing is correct and beautiful for a Small Munsterlander. Her tail extends outward, raised slightly at the tip from horizontal. She often raises a front foot. She points very staunchly, only moving or flagging if the bird moves.
As beautifully as Grace points, it's not her true forte in the field. Grace is an incredible retriever. We believe she loves retrieving even more than finding and pointing birds. This is a dog who regularly makes blind retrieves of more than 100 yards. We never lose a cripple with Grace in the field, whether she marks the fall, has to make a very long blind, or must track to the next county. Grace always retrieves to hand without putting so much as a toothmark in a bird. All of this is natural. The only retrieve training Grace has needed has been to stop her from competing for retrieves and engaging in tug-o-war with the other dogs.
Grace loves the water and she especially loves retrieving from it. She tracks as well in the water as she does on land and swims as effortlessly as she runs. Although we have not duck hunted with Grace, we have every reason to believe she would excel at it. She sometimes must retrieve a pheasant or chukar shot over a pond and will do so even if she must break ice.
Grace might have a soft mouth on game birds, but she's very sharp on all types of furred critters, including raccoons. She's not much of a barker, except when it comes to howling back at coyotes. When the coyotes are close by at night, Grace usually needs a bark collar to keep her quiet. Grace has laut (she barks) while pursuing furred animals, especially rabbits.
Because Grace is so highly cooperative, she is very easy to train. She is easy-going and calm when it comes to her training sessions.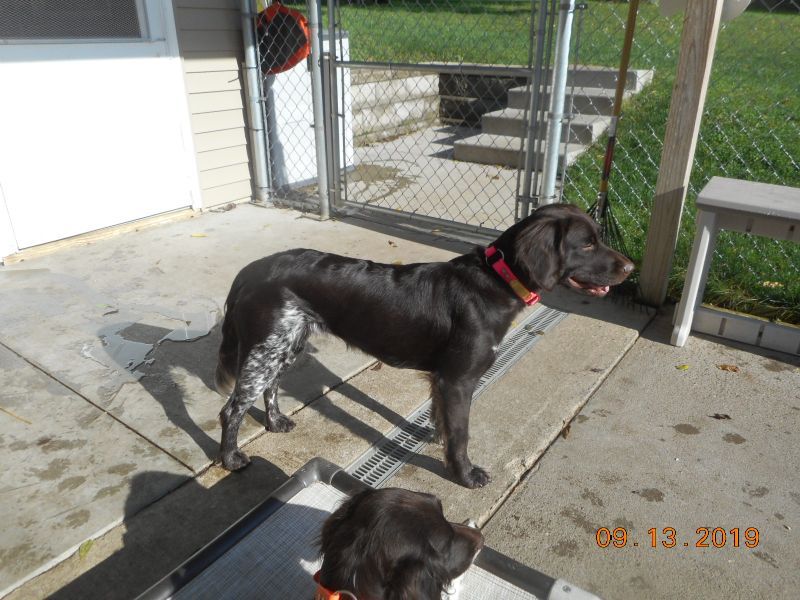 THE HOUSEPET
Grace lives in the house with us and the rest of our "pack." She is calm and quiet, so much so that you don't even notice she's in the room with you. She is a lot like her mother, Tess, in that regard. Unlike some of our other dogs, Grace never runs or barks in the house, even if there's a squirrel out the front window. Most of the time she's content to lie around, snoozing on the couch or dog bed. Occasionally she'll come to you for some petting and every night she takes a turn putting her head on Michelle's lap in bed for some big-time cuddling. If there's anything she does that would qualify as "naughty," it would be jumping up and putting both paws in your lap while you're sitting in a chair. She just can't resist doing that with Mark (and sometimes with visitors), because she always gets away with it.
Because of Grace's beautiful looks and demeanor, she is almost always our visitors' favorite. She loves kids, but is never pushy with them. If she bumps into them, it's because she's wagging her tail so violently her entire rear end is in motion. Grace also usually gets along well with other dogs and is OK with them coming into the house, so long as we make proper introductions outside first. When our cat Cleo was alive, Grace got along really well with her, even though as a puppy she pursued and barked at Cleo non-stop.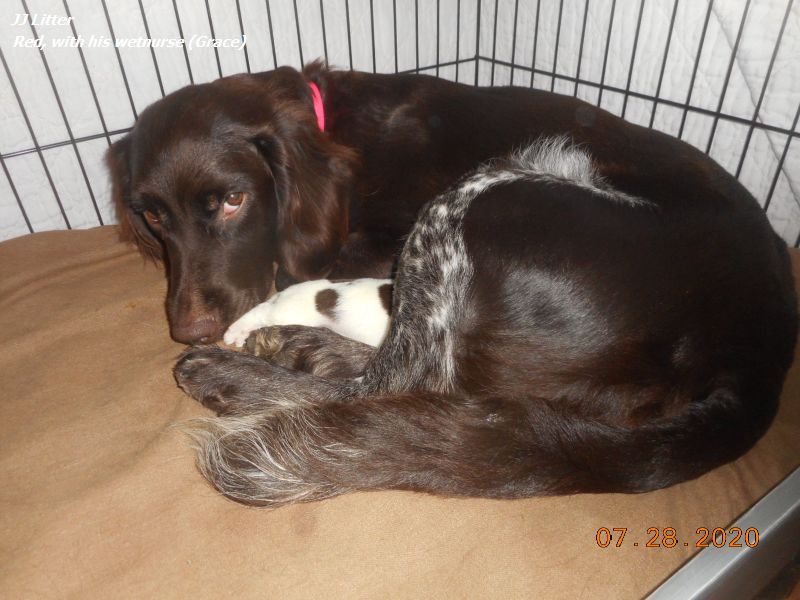 THE HOMEMAKER
Grace is an extremely attentive, patient, calm, doting mother to her puppies. The only thing that takes her away from them is going for her daily run. She leaves them for those 30-45 minutes, but that's it. Every other minute of the first four weeks are spent with her puppies. Even though we invite Grace out of the puppy pen to spend time with us, Grace won't leave them. She would rather lie on the Kuranda bed in the pen, keeping watch. Her puppies are always clean and very well-fed. Michelle often checks on them during the night and Grace is always in the whelping box, cleaning, feeding and sleeping with her babies.
When one of the JJ Litter puppies came down with pneumonia and was too weak to compete with his nine siblings for food, Grace came through for him. Between spending time with the II Litter puppies (now age 8 weeks) and the birth of the JJ Litter, Grace was sympathetically lactating. This made it possible for Grace to act as a wetnurse for little Red. No one had to force her, she went right into mommy mode the instant Red was "given" to her in a crate in the office. They were inseparable for two weeks. Grace was a big part of saving Red's life.