IntCH Brush Dale's Brown-Eyed Girl (Tess)
was born at Brush Dale on January 15, 2011 as part of our
B Litter
. Tess' dam is Cendy's Riverhills Anna Die Jagerin (
Anna
) and her sire is
Charly von Sandloh
, a German import. Tess earned her International Champion title at the IABCA International Conformation Show on 8/16/15. Tess has a dense, soft, silky, medium-length coat with lots of feathering. Her coat is correct for a Small Munsterlander. She has
russet brown
eyes and a sweet, expressive face. Tess weighs about 45 pounds and is 50cm tall.
THE HUNTRESS
Tess has the most prey drive of any puppy we've owned, trained, or hunted with - German Shorthairs included. Her drive is matched with an exceptional nose, making her a zealous, relentless and skilled hunter. Although she has a fairly broad search pattern, she is very cooperative and sticks with the hunting party. While training during the 100+ degree heat of summer 2011, we had to take great care to make sure Tess took frequent water breaks, otherwise she would hunt until she dropped from heat exhaustion. At the close of the 2011 training and testing season, Tess would find and retrieve "leftover" chukars almost every time she was taken for a run - even though Mark intentionally took her to areas he thought would be clear of them.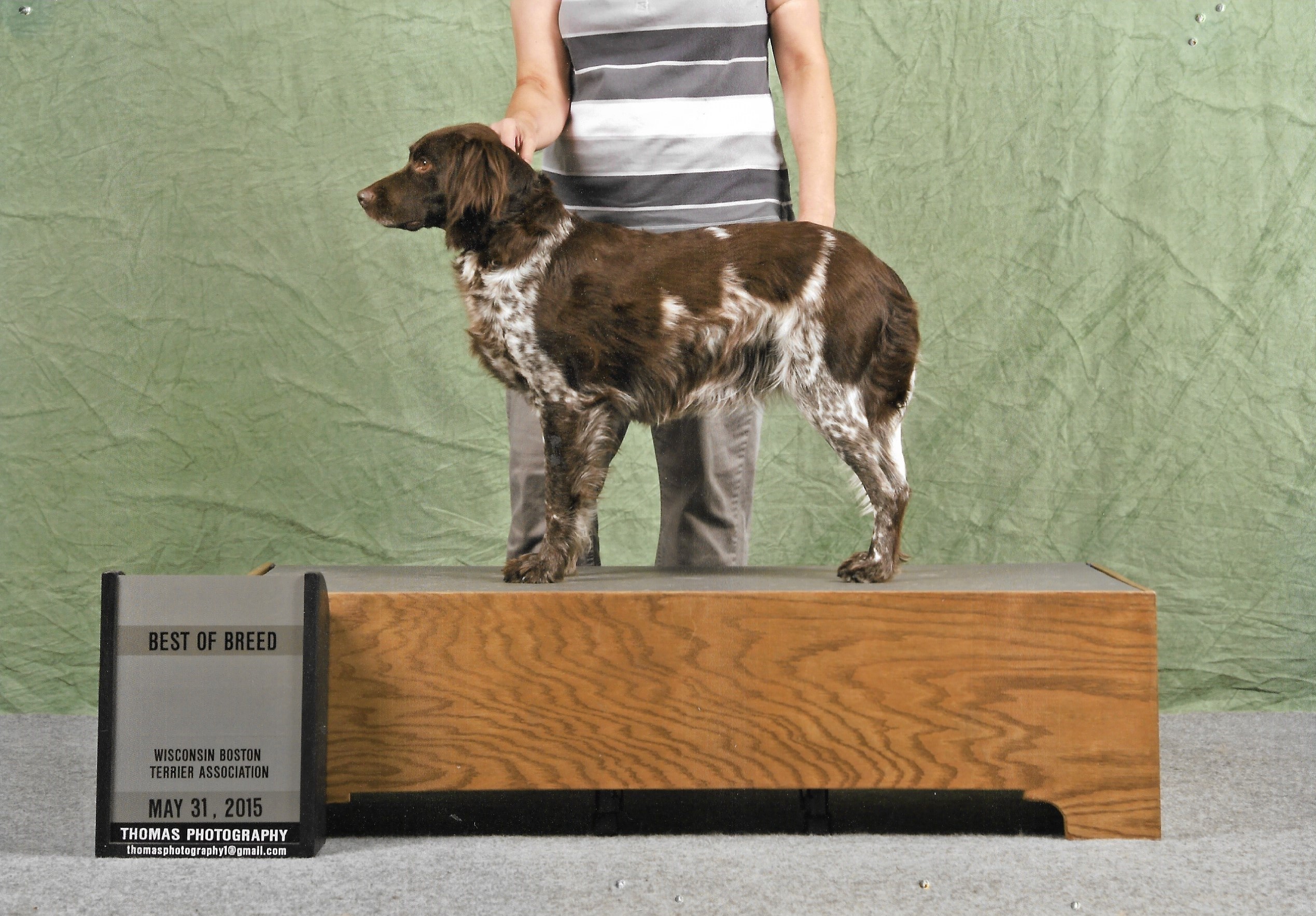 Although Tess has never been much "into" bumpers, she's all about duck searching! Tess loves the water and will track and chase a duck in the water for hours on end. During her first summer, we would frequently take her on duck search adventures in nearby marshes. Once she figured out there were ducks in the reeds, there was no holding her back. She'd search the marsh until either she caught one, or she was forced to quit. It was often difficult to get her out of the water so we could go home!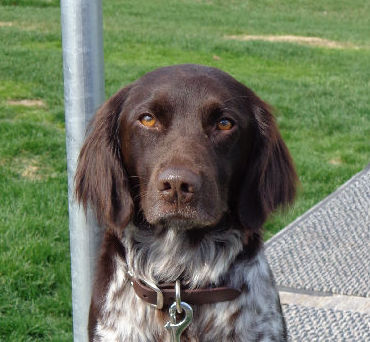 At her NAVHDA Natural Ability Test, Tess charmed the judges and other handlers with her easy-going nature when not in the field and her firey spirit while hunting chukar and tracking pheasant. The judges all said they would hunt with her any time. She did an excellent job overall, earning a Prize I, with maximum scores in all areas but swimming. She lost one point in swimming because she did not immediately enter the water on the first bumper toss. It was no surprise to me she was more interested in what might be in the shoreline reeds than fetching the bumper.
Tess has a natural retrieve of game. Since her first day in the field she has retrieved any chukar or quail shot over her and during the 2011 hunting season began retrieving pheasants.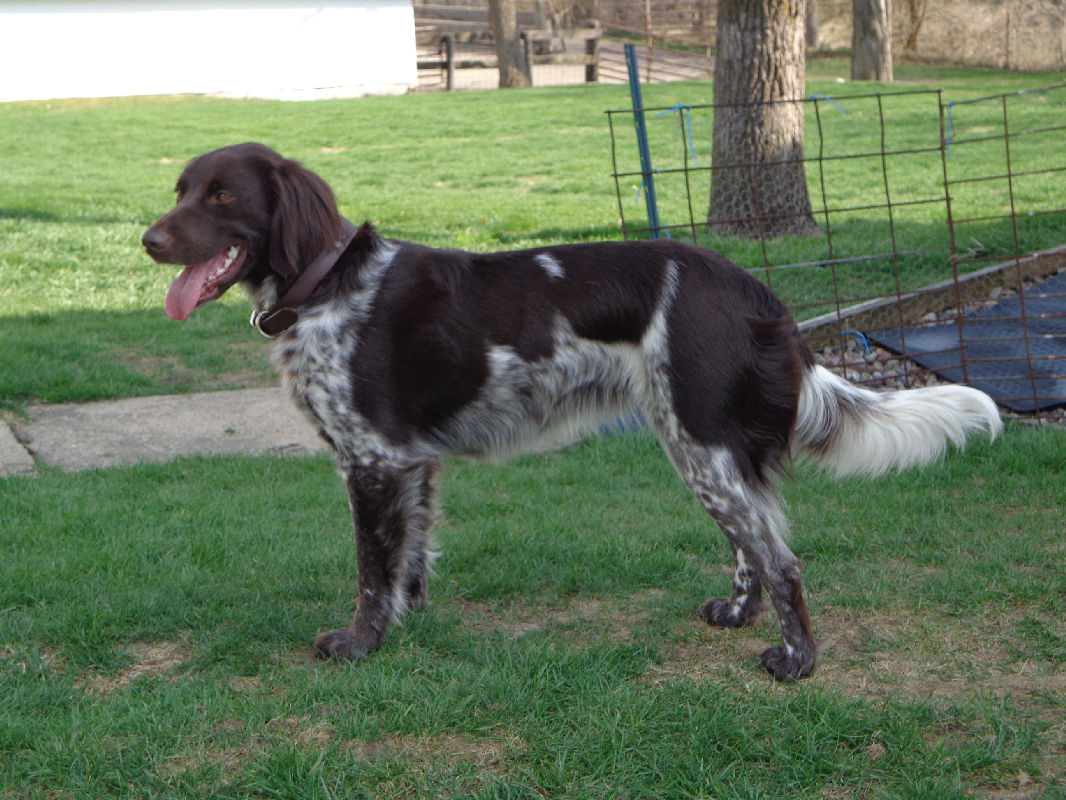 THE HOUSEPET
Tess lives in the house, as do all our dogs, although she spends much of her time outside. As a young puppy, prior to being trained to stay in the yard, Tess would spend all day hunting in the woods behind the house. In the home, Tess is extremely calm, sweet, unassuming, gentle, friendly and loving. She is a real pleasure to be with. Sometimes she'll crawl onto your lap or lie on top of you in bed. She very much enjoys a good belly rub and she loves to lounge on the bed in the air conditioning on a hot day. When you meet Tess for the first time, you'll have no clue what a relentless hunter she is. Around the house she gives the misimpression of being almost timid. It's like she has an on/off switch and if you want to see Tess turn on, just take her for a walk in the field.
Tess gets along especially well with Cleo, our Siamese cat. She let's Cleo rub up against her legs and tries to give Cleo kisses. Once KD's C Litter puppies were big enough to play outside, Tess thoroughly enjoyed being able to rough-house with them. One of the C Litter puppies, Colt, was with us for a few extra weeks for training and he and Tess became best buddies. The first video in Tess' video album shows her being extremely tolerant of Colt's incessant face licking.
Tess, like most Munster puppies, was quick to housebreak and has been very easy to obedience train. Although she's a very tough dog when it comes to things like hunting and killing racoons, she needs only a soft touch with her training. Very seldom is negative reinforcement needed. Almost all of Tess' training has been done using positive reinforcement techniques.