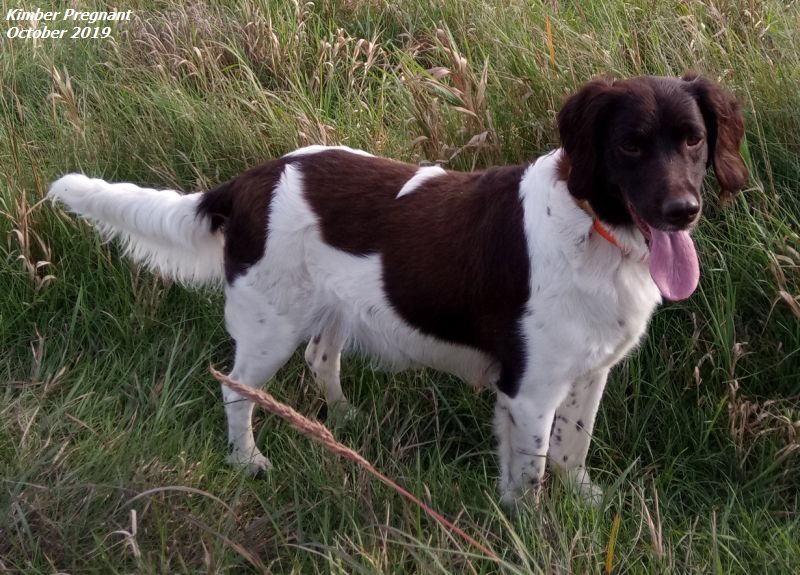 IntCH Daisy Zimni vrch (Kimber)
was born on February 1, 2016 in the Czech Republic. Kimber's sire is Dor Ulja-Morava from Serbia (
photo
/
pedigree
) and her dam is the beautiful
Aida Zimni vrch
from the Czech Republic. Kimber is a half-sister (same sire) to
Eve
and sister to
Ozzy
and
Jaxon
.
Kimber earned her Puppy International Champion titles at an IABCA International Conformation Show on June 25/26, 2106 and her adult International Champion title on 9/16/17. Kimber's medium dense, soft, silky brown/white coat is slightly short for a Small Munsterlander. Kimber has nice feathering on her legs and tail. She has
medium brown
eyes and an expressive, feminine face and head. Kimber weighs about 47 pounds and is 51.75cm tall.
THE HUNTRESS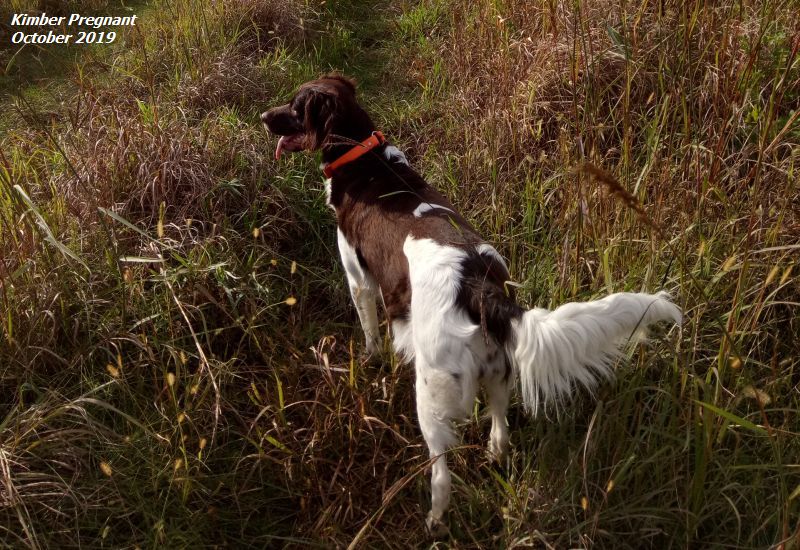 Kimber is an ambitious and energetic, but methodical and cooperative, hunter. She quarters naturally at 30-50 yards and checks back regularly. She has a beautiful, staunch, correct point for a Small Munsterlander. Kimber is a natural retriever who has always retrieved all types of game to hand, without any forced retrieve training. She is an especially enthusiastic retriever from water. Kimber will launch herself off the dike and over the other dogs in order to get into the water first. With very little training, Michelle is able to send her from the bank to retrieve anything she points to.
Kimber is easy to train and has a tremendous amount of drive. Michelle did not initially intend to run her in the Spring NA Test, but even though she was only 3 months old, she showed Michelle during training that she was capable of prizing. Michelle ran Nikki in the Test on Saturday and when a spot opened up on Sunday, Michelle decided to enter Kimber in the Test at age 4 months/3 days. The judges definitely were not "thrilled" with this decision, as they believed Kimber was too young and likely would not prize. Kimber proved them wrong and became one of the youngest puppies to have ever prized in the NA Test. She also gave Michelle a day so memorable she will never forget the details.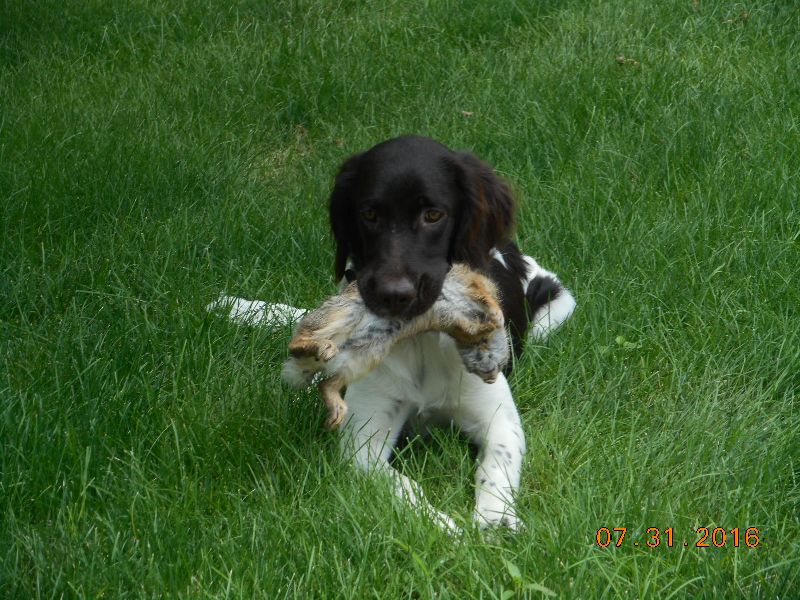 Kimber and Michelle had kind of a slow start in the field, because Michelle was nervous about running such a young puppy and overhandled her until Vic Conners (the Senior Judge that day) very nicely suggested Michelle "be quiet and let the pup hunt." That was all it took to turn things around during the second half of her
field search
. Kimber still didn't search very big because of her small size, but she did well enough to earn her a prizing score. Her pointing score also was not as high as it would have been if she were older, because her points were puppyish and lacking in intensity. At the water, everyone was shocked when Michelle selected the biggest canvas bumper in the pile for Kimber. Why? Because that was her favorite! (Like they say, go big or go home.) Kimber swam and fetched twice enthusiastically, earning her a solid 4 in
swimming
. At the track she proved what a relentless tracker of crippled pheasants she would become. As Michelle recalls, the judges let Kimber work the track for about 30 minutes, hoping she would eventually reap the reward of her hard work by finding the bird. Michelle prayed and bit her nails as she watched Kimber methodically track a little over 50% of the distance, then return to the start with her nose still glued to the ground, back and forth, back and forth, back and forth, until the judges finally had to call it quits. Kimber, however, never gave up trying to find that bird. She wouldn't recall to Michelle, nor would she walk out of the field on lead, so Michelle had to carry her out. With that one exception, throughout the day Kimber listened well and worked with Michelle as a team, earning her a maximum score in Cooperation.
THE HOUSEPET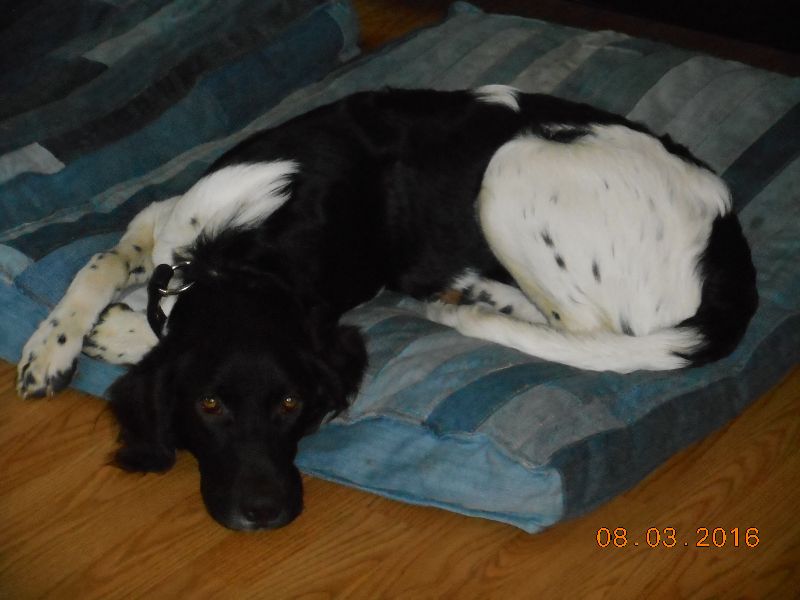 In the house, Kimber is quiet, calm and relaxed. Even at night when the other dogs are outside barking at howling coyotes, Kimber will stay stretched out on the bed. Except for being crazily impatient while you're getting ready to go hunting or for a run, Kimber doesn't get very excited about much.
Kimber generally gets along well with other dogs and we are able to hunt her with our friends' and customers' dogs. When she was a puppy, Kimber constantly pushed the limits on acceptable behavior with our cat, Cleo, hoping Cleo would run so she could chase. Cleo, however, had 13+ years of experience with pushy puppies and wouldn't budge. Over time, Kimber eventually gave up and stopped bothering Cleo. Now she totally ignores her.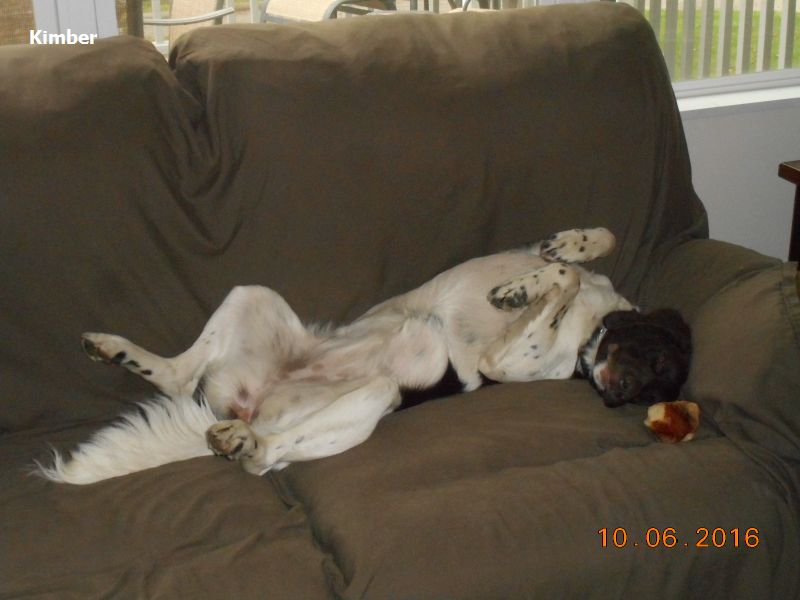 The one annoying thing Kimber does is paw at you when she wants to be petted. Munsters were bred to be extremely persistent, which is a wonderful trait in the field - it keeps them hunting, even when they haven't found a bird in hours - but can be a difficult trait around the house. Michelle doesn't remember when Kimber did it the first time, but likely she pushed Kimber away because it hurt. Kimber wanted Michelle's hands on her. Being pushed away gave her what she wanted, so in Kimber's mind, if it worked once it can work again - if she just keeps trying. So Kimber persists.
Kimber is very affectionate for an adult female Munster and often wants to be petted, but she isn't a licker. She follows Michelle around the house, including into the bathroom. Despite loving their attention, Kimber doesn't jump up on people. She gets excited and will try to push the other dogs out of the way, but she demonstrates self-control. She always sleeps at the bottom of the bed on Michelle's side, which would be OK if she didn't insist on putting her head on Michelle's feet!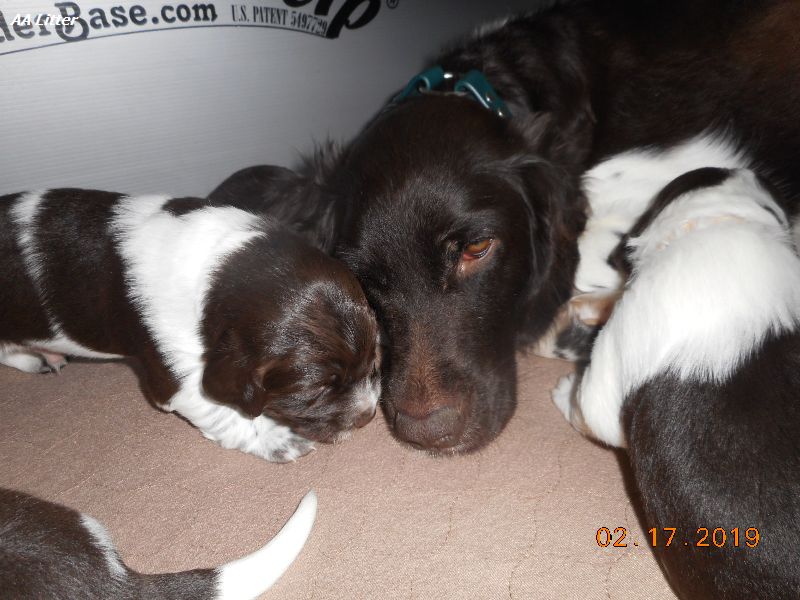 THE HOMEMAKER
Eve is an excellent mother. She is very calm, quiet and doting with her puppies, which definitely "rubs off" on them. Her puppies are always kept clean, warm and well-fed. Surprisingly, Kimber was fairly tolerant of our other dogs wanting to sniff and see her puppies and the few times one of the younger dogs was able to sneak in, she handled it well, without any fireworks. When her puppies became old enough, Kimber would lounge outside with them and would occasionally play a game of chase or keep away.
One of the most remarkable things about Kimber as a mother, is she had two brown/white puppies with Jungklaus Markings in her AA Litter. These are tan markings dating back to one of the breed's founders, typically on the muzzle/cheeks, eyebrows and around the anus. Since these markings are now so rarely seen, it is definitely a recessive trait, so will be interesting to see if she produces more puppies with them.