Search Our Site:

Pheasant and quail are popular entrees at Brush Dale, as are wild turkey and deer. Besides tasty wild game recipes, you'll find scrumptious ways to serve garden vegetables and delicious desserts. Lodge Recipes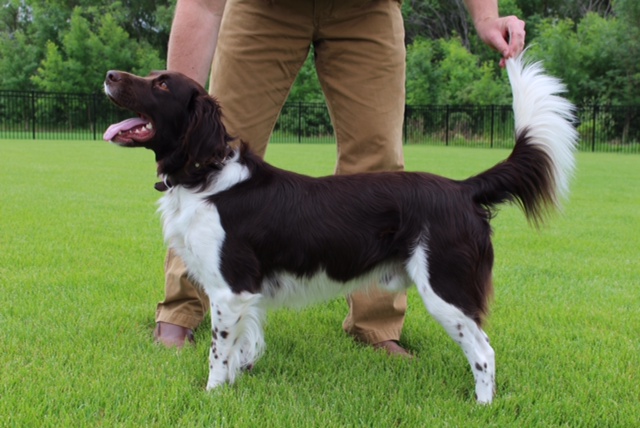 *Scout has produced 3 Brush Dale NAVHDA Natural Ability Award Litters!
Scout became a father for the first time at age 9 months (
F Litter
), in our upstairs hallway, at 6:30am on a Saturday. Needless-to-say, this was not a "planned" breeding, but it was welcomed as Michelle had planned to pair Anna and Scout when he was approved for breeding after turning age 18 months. Michelle had selected Scout from the D Litter for started hunter training, as he had very good physical structure and she felt he possessed an even disposition, sound temperament, highly cooperative nature and would undoubtedly have outstanding hunting abilities. These attributes made him a candidate for future breeding, which is a requirement for a dog being started at Brush Dale.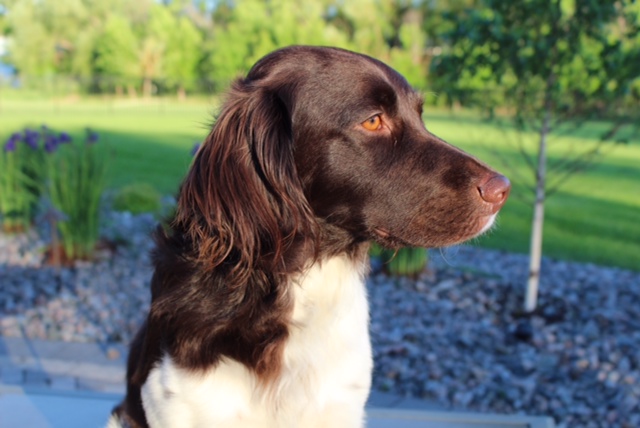 Scout has a sleek, dense, soft, brown & white coat with lots of feathering. His coat is correct for a Small Munsterlander, being fairly short and tight on the body with feathering on the tail, ears, forelegs and hindlegs. He weighs approximately 50 pounds and is of average height for a male. He has very good physical structure and conformation.
Scout is an energetic, tireless, big searching (but highly cooperative) dog in the field. He has a staunch, correct point for a Small Munsterlander and he honors naturally. He loves the water. Scout has laut on fur (he barks), which may soon become a requirement for breeding dogs if FCI accepts the German Breed Club's proposed revision of the FCI Standard. He goes bonkers if he even "thinks" there's a squirrel in a tree. He is a great tracker with a terrific nose. He tracks methodically, with his nose low to the ground, like his mother. Scout is an exceptional natural retriever who retrieved his first rooster pheasant when he was 4 months old and has retrieved every bird shot over him, to hand, since. Scout passed his NAVHDA Natural Ability Test with a Prize I at age 10 months and tied for 3rd place in the SMCNA Bird Derby, Puppy Division, at age 10 months. Scout went home to Fargo, North Dakota on July 1, 2013.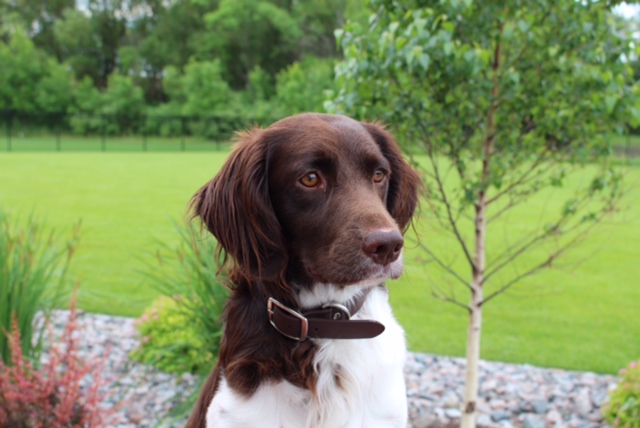 Scout is the sweetest, most gentle, cuddly dog you'll ever meet. He is very loyal and loves attention. He is calm, patient and relaxed in the home, only barking when appropriate and only getting excited when he knows he's going hunting, training, or for a run. Scout generally lies down when he eats, which is funny, but cute. His mother, KD, does the same thing. He rides quietly in the truck, even for long periods of time and is OK with being chained-out while we are training. Scout is a trainer's dream, just like his mother. With his cooperative nature, natural retrieve, high prey drive and easy trainability, Scout would most certainly be successful at the highest levels of NAVHDA testing.