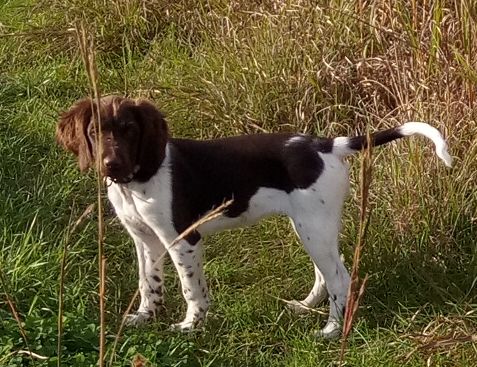 Brush Dale's Greisy z Romanova Chovu (Eve)
was born in the Czech Republic on August 17, 2019 as part of z Romanova Chovu's G Litter. Eve's sire is
Kenzo von der Wolfstange
from Germany and her dam is Dixi z Angeliky from the Czech Republic.
Eve is a very small girl for a Small Munsterlander. She weighs about 32lb and is 48.5cm tall. She has a fairly short coat with minimal furnishings, except for her tail, which has a nice flag. (Her furnishings will likely improve with age.) Her hips have been x-rayed and evaluated/rated by the OFA as a Good with no evidence of dysplasia. Eve's overall conformation is excellent. In particular, she has a very nice-looking, feminine head with a strong muzzle. She has a high tailset and a level backline. Her shoulder angulation is very good. All her structural proportions are well within the FCI Standard's requirements for the breed. Were she not so small and had more coat, she'd be an excellent breeding candidate.
Eve has a beautiful point and is very cautious on birds, so is therefore quite naturally steady, especially for a Small Munsterlander. She tracks extremely well and lauts on fur. She searches like a demon and never tires, no matter how thick or nasty the cover is. Eve's all-time favorite activity, however, is probably swimming. The dog is completely water crazy! When out for a run in the fields, she frequently "disappears" and returns soaking wet. If there's water anywhere nearby, she's going to get into it. Often she'll swim across a pond instead of running around it, just because it's the shortest route. She doesn't care how cold the water is or how cold it is outside. We planned to run her in the NAVHDA Natural Ability Test on May 16, 2020, but the Test has been rescheduled for July 11th. She's ready for her test and is sure to prize, easily. She's basic obedience trained, housebroken, etc. Her vaccinations are current. She had her annual physical in April 2020 and is in excellent health. She's an exceptionally nice dog in every way.
Although one might think she's no longer a puppy at this age, nothing could be further from the truth. Eve's very playful and energetic. She still chases butterflies and wrestles with our 5-month-old like there's no tomorrow. Given her personality, we think she'll probably always be a happy, playful, little girl. She's very outgoing, friendly and enjoys being the center of attention. She's well-socialized and gets along really well with other dogs. Except for a 30-minute wrestle period every evening after dinner, which all our puppies do, Eve is a calm, couch potato in the house. Unless there's a squirrel, goose, pheasant or rabbit she can see out the window, she's content to sleep the day away on the couch or dog bed.
Eve has a sensitive temperament and wants to please, so is very easy to train. Eve's a clicker-trained puppy who LOVES to train. Because she's so sensitive, one cannot be heavy-handed nor yell at her. She needs a level-headed, consistent, patient trainer/owner. She wears an e-collar on runs so we can keep track of her with the GPS, but she's never had the stimulation used on her. We haven't needed to. For the most part, she's pretty obedient. It can take a few minutes to get her attention when she's tracking birds or chasing bunnies, but our treats usually prevail in short order. Eve is accustomed to being bathed and groomed daily on a bench and seems to actually enjoy having her nails trimmed.
The only somewhat annoying thing about her, which very well could change when she matures, is how easily she's excited into barking. If a bird chirps or a dog barks on TV, she'll jump off the bed and run outside barking. When the coyotes are barking at night, we put a bark collar on her and then she sleeps quietly all night. Eve's accustomed to be chained on a tie-out stake or to a fence post while we're training. Even though she's next to the bird crates and/or is watching the other dogs work in the field, she'll just lie there waiting patiently and quietly for her turn. She also travels calmly and quietly in the vehicle, whether she's crated or not. Everyone is always very impressed with how well-behaved and calm she is.