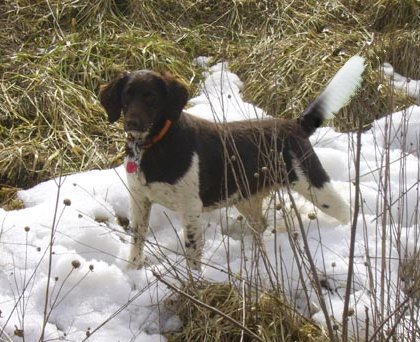 KD (kay'-dee) was born on January 12, 2007. KD's dam,
Anna vom Haus Hessling
, was imported from Germany. KD's sire,
Brendan Boy v Omeara/Sengpiel (Buddy)
, is from the Sengpiel line of Munsters. The Sengpiel line has made important contributions to the Small Munsterlander breed in North America. Buddy's sire, Jeiko vom Jakobsbrunnen (Fritz), imported from Germany, is one of the North American foundation dogs. Fritz was the first Small Munsterlander to earn a Prize I in the NAVHDA Utility Test and the first Munster to run in the NAVHDA Invitational.
KD has a dense, soft, shiny, fairly short, slightly wavy, brown & white coat. Her coat is correct for a Small Munsterlander. She didn't develop her beautifully feathered hind legs and tail until she was about two years old. Her coat is so dense that she can go into the multiflora rose bushes and come out unscathed. The only way we know she has been in the bushes are the large thorns we find in her fur when we comb her. This density protects her both from often harsh hunting conditions and her frequent encounters with various furred creatures here at Brush Dale. KD is extremely proficient at hunting, killing and retrieving racoons, muskrats, woodchuck, squirrel, rabbits and such. German-bred, versatile hunting dogs, such as KD, are expected to be "sharp on fur." In Germany, it's not uncommon for SM's to be used in hunting fox and even wild boar.
KD has
russet brown
eyes and a sweet face. KD weighs about 48 pounds and is of average height for a female (approx. 21 inches tall). She has her mother's head (she is the spitting image of Anna) and her father's body type. We've gotten kind of lazy about taking photos of the dogs, so we don't have many photos of KD that do justice to how pretty she really is.
THE HUNTRESS
KD had the misfortune of being our first NAVHDA dog, and as a result, was not prepared as well as she should have been for her Natural Ability Test. Her exceptional ability in the field is not reflected in her Natural Ability Prize II - a result of "3's" in Search and Desire. The judges did not feel she hunted far enough away from Michelle. This was not KD's fault - she was searching exactly as she was trained to. Pre-Munster, we were accustomed to having to battle with our Shorthairs to stay within gun range. When KD came along, we over-handled her in the field, keeping her in too close for NAVHDA testing. Since then we have loosened the reigns, and at KD's NAVHDA Utility Preparatory Test in 2009, she scored "4's" (the maximum score) in both Search and Desire (and also in Pointing and Use of Nose). KD has also been trained for and has taken NAVHDA's Utility Test - while 5-weeks pregnant!
In the field, KD's a meticulous, methodical hunter, who generally stays within gun range and checks in often. She is very obedient and a real pleasure to hunt with. She's the perfect guide dog, because she readily adjusts her pace to match that of the hunting party. We frequently have guests with physical problems or disabilities that prevent them from walking the Prairie at a quick pace. Not only will KD slow down and stick with the hunting party, her excellent nose allows her to produce as many or more birds using a slow, deliberate search, as when she covers the ground more aggressively.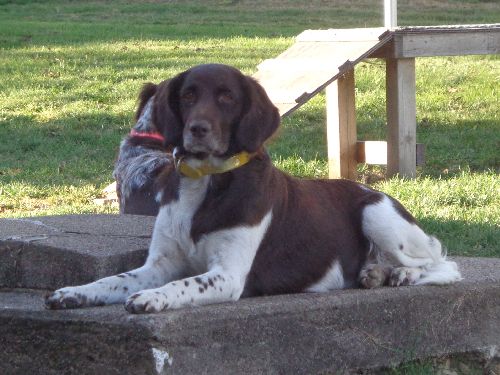 KD honors naturally and rarely bumps a bird. She is very proficient at marking downed birds and will thoroughly search an area for a downed bird upon command until released from the task. If a pheasant happens to be brought down in a pond, KD will make the water retrieve without hesitation. Likewise, KD has no trouble making retrieves from the Creek bottom when a pheasant is shot over one of the limestone bluffs that border the Prairie.
Despite being extremely aggressive in the field, her exceptionally calm demeanor makes it easy for her to remain quiet in the blind until sent for a duck retrieve. She is also very soft-mouthed, never putting so much as a toothmark in gamebirds or waterfowl.
KD is the best tracker we've ever had, tracking prey with her nose to the ground like a bloodhound. KD also barks on track, a trait that is prized in Germany. KD has yet to lose a crippled bird on land or water. She has had quite a bit of tracking training, including blood tracking.
Her strong desire to please and her high intelligence have made her a trainer's dream. We have had to use very little negative reinforcement in KD's training. She loves to train and will bring objects to Michelle in an attempt to coax her into doing some retrieve training. If Michelle is in the yard, she'll jump up onto the training table and whine. She exhibited a strong natural retrieve as a young puppy and she retrieve trained quickly and easily. KD now retrieves anything and everything to hand with abandon.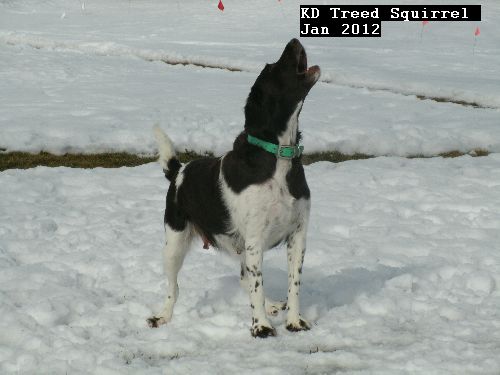 THE HOUSEPET
We knew almost from the minute we picked KD up from
Gosch Kennel
that we had a keeper. KD was an angel in the car, sleeping on the back seat most of the way home, without so much as a whimper. She still lies down in the back of the Suburban and rides patiently whenever she is in the car, as do all of our Munsters - without having been trained to do so!
Around the house, KD is quiet, unassuming, gentle, sweet, patient, calm and relaxed. We have never before had a hunting dog who is such a pleasure to have in the house. She is particularly attached to Michelle and is never far from her. While Michelle works on the computer, KD lies quietly under the desk at her feet, with one paw over Michelle's foot. When she was younger, we allowed her to sleep on the bed, where she prefered to be close enough to Michelle to get her head under Michelle's hand. Bad arthritis in her shoulder where she was bitten by a big raccoon now prevents her from jumping up onto the bed, so she sleeps on the floor, but she still relishes every opportunity to be petted. While Michelle cooks or does dishes, she lies on the rug in front of the kitchen sink, where she is constantly in the way.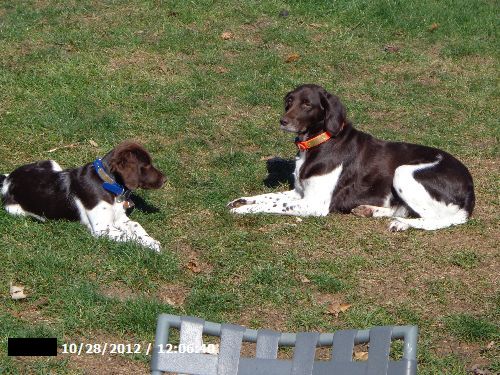 THE HOMEMAKER
KD is a wonderful mother. She keeps her puppies and their whelping box immaculately clean. For the first two weeks, she barely leaves the box, constantly cleaning and doting over her little ones. KD is totally at ease having people, including kids and strangers, handle her puppies - even before their eyes open. One day, when her puppies were just a week old, she happily shared the whelping box with our two neices and their five friends - 7 kids! As the puppies get older, KD begins the weaning process by sharing food with them, including regurgitating food for them to eat. Once when we took the pups to the beach (they were just 4 weeks old), KD skillfully watched over them while they played. Two stray homing pigeons took roost on a power line overhead and KD, concerned they were birds of prey stalking her babies, barked menacingly at them until the pigeons took flight. Every day includes a new lesson of some sort, mostly taught in the form of rough play. She teaches her puppies to kill furred prey by chasing and catching them, then play-biting the backs of their necks; to stay away from growling dogs by growling and nipping at them if they bother her while she's eating; and to be submissive when approached by an older, larger dog by rolling them onto their backs and holding them down by their necks until they stop squirming.
One of the most wonderful traits KD passes to her puppies is a natural desire to retrieve. All of her puppies have a strong natural retrieving instinct, which makes it easy to train them for hunting and testing.