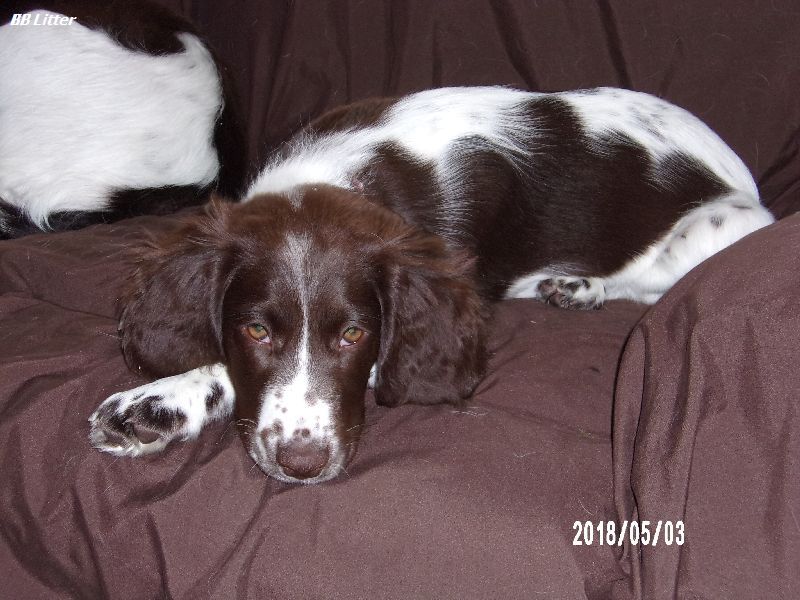 Claire is housebroken; has basic obedience training; is e-collar conditioned; started on birds; and retrieves from the water better than some of our adult dogs. She is a small, athletically-built female with a very outgoing and affectionate personality. She has a very strong chase instinct, so likes to retrieve anything you throw. She spends a great deal of time chasing flies, bees, butterflies, grasshoppers and anything else that moves. Like all Munsters should be, she is calm in the house and a dynamo in the field.
At the moment, Claire is sporting what we affectionately refer to as a "Puppy Mohawk." This is a section of longer, often curlier, hair that runs the length of her back. About half of all Munsters puppies get some sort of a Mohawk. Her dad, Scout, had a Mohawk that stood straight up near his rump. He looked utterly ridiculous for months! Fortunately, the Mohawk goes when the puppy coat goes, usually by age 1.
Claire has very symmetrical, dark chocolate, body markings. Both sides of her body are pretty much identically marked, like a butterfly. Although very common in Small Munsterlanders of old, her facial markings are some of the least common you'll see today - a throw back to the look of early Munsters whose blazes on their muzzles were an indication of the Spaniel influence in the breed.
Claire comes from the one-and-only breeding of Eve (IntCH Eve Zimni vrch from the Czech Republic) and the final breeding for Scout (IntCH Brush Dale's Doggone Right). She is the granddaughter of KD, our first Munsterlander, who is now hunting the fields in dog heaven. Because of this, we originally intended to keep and breed Claire, but she is very small and does not fit into our long-term linebreeding plans. This is the one and only reason we are selling Claire. She is a great puppy and we absolutely adore her.
Claire gets along well with other dogs, is very playful, and loves kids. She would do best in a home where she lives inside most of the time and gets out for a run in the fields every day or two. We fully expect she'll develop into an exceptional hunter if her training is continued. She would also probably do quite well in a non-hunting home, provided she receives the off-lead exercise and mental stimulation all hunting breeds require.