IntCH Brush Dale's Vanishing Point (Radar) was whelped at Brush Dale on 10/08/2017 as part of the V Litter. Radar's sire is IntCH Dag Zimni vrch (Ozzie) and his dam is IntCH Brush Dale's Brown-Eyed Girl (Tess). Radar is a fully sibling to IntCH Brush Dale's Va Va Voom (Grace). Radar is owned by Jerry Taylor of Watton, Michigan.

Radar was driven to his new home with Jerry at 10 weeks of age. This was the first of many trips the two of them have shared with nearly 10,000 miles having been logged. Radar is Jerry's first hunting dog in over 35 years and he has proven to be everything Jerry had hoped for. He lives in the house and has adapted well in a variety of arrangements, ranging from rural living with complete freedom to run to condominium living in a small city. He often accompanies Jerry to his work place and is well known and loved by Jerry's colleagues and students. Radar experienced -20 degree temperatures before age 12 weeks and trained for his Natural Ability test in 90+ degree temperatures later that summer. Radar handled all of it calmly, patiently and with enthusiasm, although he clearly prefers cooler weather to warmer. He is an excellent cold-weather hunter who rolls in snow, retrieves in ice-filled water and has even been seen sleeping on a snow bank when he had other much warmer options.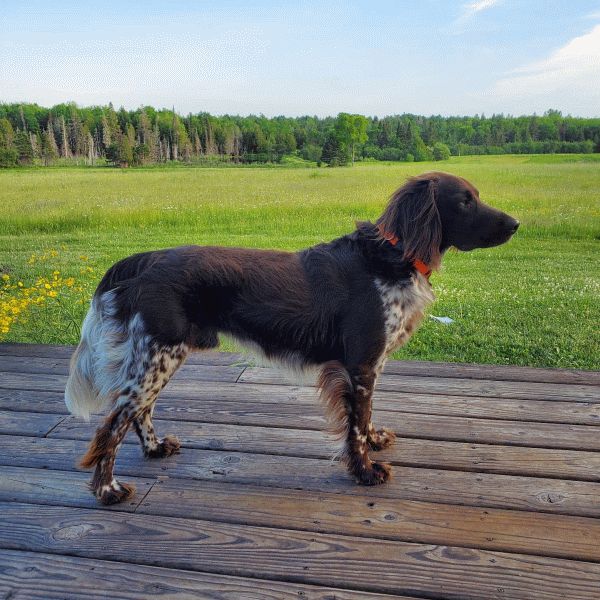 Radar has a sleek, dense, soft, roan coat with lots of feathering. His coat sheds water well and enables him to withstand cold water and snow with ease. He weighs approximately 45 pounds and is of average height for a male.
Radar is an energetic and enthusiastic dog in the field who loves the water, often swimming in pursuit of beavers and waterfowl. He naturally wants to pursue just about everything, yet is trainable enough to ignore unwanted creatures and to focus his efforts on desired game. He often quivers upon sighting deer and other game that he knows he isn't allowed to chase and his discipline in resisting the instinct to chase everything is impressive. He has a natural instinct to hunt as a team and that has made it easy for him to learn to seek grouse, turkeys and pheasants. He works closely with Jerry, often checking to see how the team should proceed. Notwithstanding the instinct to seek out birds and other game, he has learned to sit quietly in a duck blind until called upon to retrieve. He is an excellent tracker, often running at full speed with his nose low to the ground. Only once has he failed to retrieve a bird that was shot and that was because it fell in an inaccessible location. On the other hand, several times he has returned with a bird the hunting party didn't know had been felled.
As desirable as Radar's hunting skills are, his temperament at home is equally or even more attractive. He is an easy-going and affectionate family member, whose only demands are to go out and hunt or play - with anyone or any dog who will join him. When at home, he stays quietly and calmly at rest, but alert to any movement inside or out that signals an opportunity to go play or chase intruders.