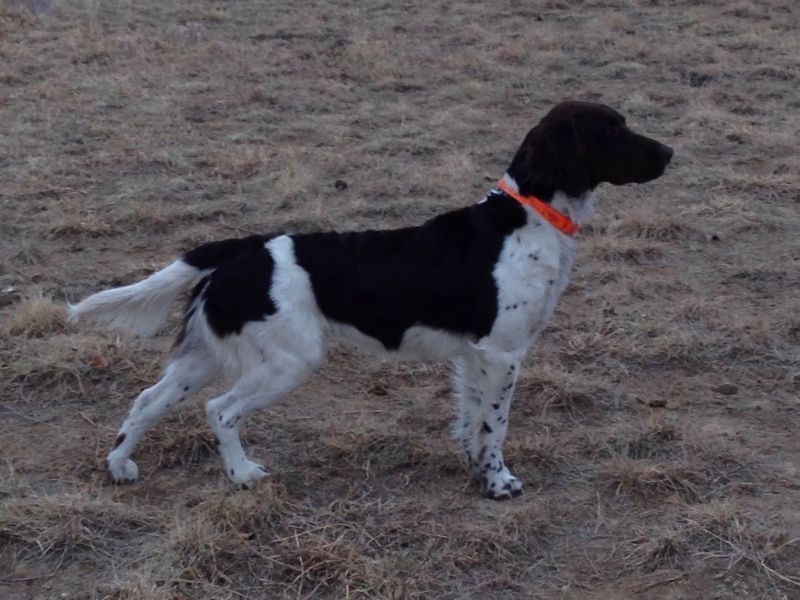 IntCH Brush Dale's Imagine That (Atlas)
was born on January 29, 2014 as part of Brush Dale's
I Litter
. Atlas' sire is
VC Hunting Hill's Joker
and his dam is
Cendy's Riverhills Anna Die Jagerin (Anna)
. Atlas earned his International Title in Conformation at the 2016 Rocky Mountain Sieger IABCA International Conformation Show in Greeley, Colorado on 4/2/16. Atlas is owned by Tony Narde and Mary Jo Lockbaum of Brighton Colorado, where he has the freedom to run on 10 fenced acres.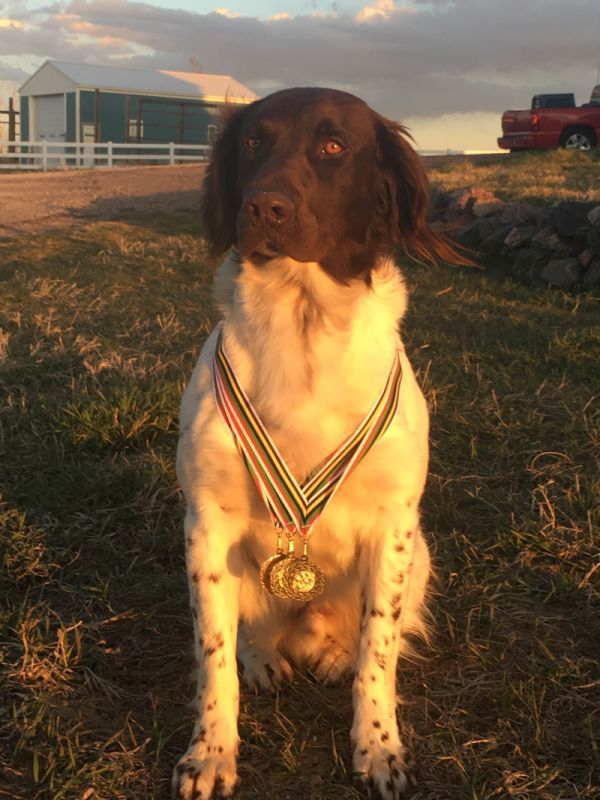 Atlas has a sleek, shiny, dense and very soft brown and white coat. He exhibits beautiful featherings on tail, ears, forelegs and hindlegs. Atlas weighs about 60lb and is 56.9cm in height, so he is tall for the breed. The judges at the IABCA Conformation Show said he was the most well-muscled Small Munsterlander they had ever seen. Small wonder, as he spends most of his time outdoors running and playing.
Atlas is bold, hard-working, with staunch points and a terrific nose. He often hits the scent cone and identifies a birds presence with a flaggy point 20 feet out from the bird, which is then followed by a rigid tail point as he relocates closer to the bird. On 8/24/14, at only 6 months old, Atlas took his NAVHDA Natural Ability Test. Atlas was the youngest of the eight dogs tested and scored 110pts and a Prize I, receiving the highest score of the dogs tested that day. During the Test, Atlas found and pointed 6 birds before the judges had seen enough and asked Tony to call him back. But Atlas didn't want to quit. The judges docked Atlas a point on Cooperation, because it took numerous calls to get him to return.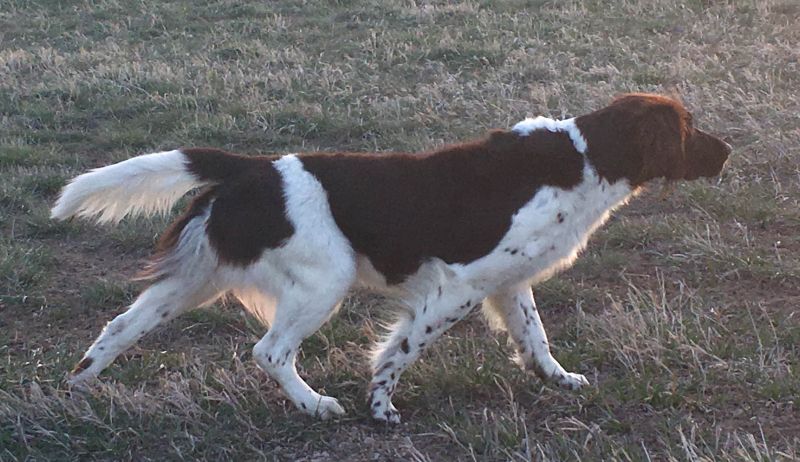 During the tracking portion of the Test, Tony thought Atlas had lost the scent of the wounded pheasant, as he had ranged away from the bird release point by over 200yds. Just when Tony thought the judges were going to ask him to call Atlas, and to everyone's surprise, the pheasant shot straight up in the air about 10 feet, followed by Atlas, who proudly came back with the bird still alive.
Atlas is a natural retriever of game, bringing birds back alive, if thatís how he found them. He loves the water, chasing ducks for hours if you let him. Atlas is a tireless hunter, thoroughly searching for birds, in the thickest cover. During the 3-4 hour drives to the hunting areas, Atlas is calm and quiet riding in the truck, but as soon as you open the door, he is on the ground and 200% ready to find some birds.
Atlas is a very sweet and loving family companion insisting on giving everyone kisses (including the horses, which he has to jump up to reach their nose). He makes friends easily and readily grabs a toy to present to anyone who will engage him in a game of fetch. The only time he barks is when he has scented rabbits or someone new comes onto the property, and then only briefly.