HnrCH/IntCH/NatCH Brush Dale's Riding Shotgun (Buddy) was born at Brush Dale on 10/18/16 as part of the R Litter. Buddy's sire is IntCH Brush Dale's Doggone Right (Scout) and his dam is IntCH Brush Dale's Brown-Eyed Girl (Tess). Buddy is owned by Lucinda Ochoada & Jon Parker of Satellite Beach, FL. Buddy spends his time between Florida and the farm in Minnesota. He is Lucinda & Jon's first versatile hunting dog and shares his owners with Daisy, a maltese poodle. Buddy is very affectionate and is still learning how to greet people without jumping up and giving them a kiss. While he will sometimes compete for toys while playing with Daisy, he is all about birds and fur.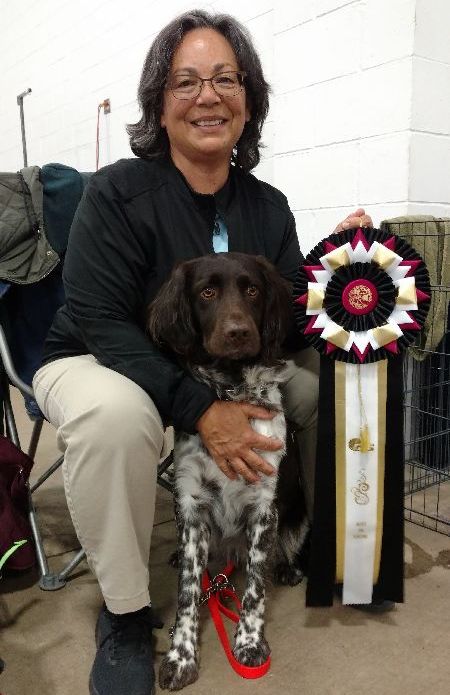 Buddy has a beautiful dense, soft roan coat with extensive and correct furnishings. He weighs approximately 45 pounds, is within the FCI standard for height, and is well-balanced. He has a "white flag" on his tail, which is characteristic of the Small Munsterlander breed and a requirement of the FCI Standard. He received his International Championship in conformation at the April 2018 IABCA North Star Spring Sieger in Hutchinson, Minnesota, where he went on to win Best of Breed and Best in Sporting Group. It was quite an unexpected surprise when he then competed and won Best in Show! In 2019, he earned his IABCA National and Honors Championship titles.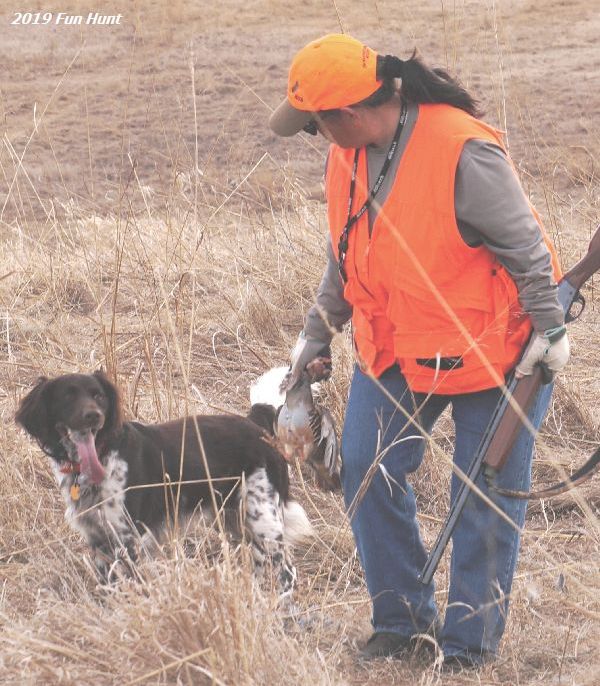 At age 7.5 months, Buddy earned a Prize I with 112 points (a maximum score!) at his NAVHDA Natural Ability Test. Buddy has an intense prey drive, an exceptional nose and will laut (a very distinctive bark) when he scents fur. In the field, Buddy is a relentless hunter with boundless energy and focus. He loves to hunt in any cover and under any weather conditions, but especially enjoys snow and cold temperatures. Buddy is exciting to watch as he searches for birds and has a beautiful, classic, correct point. He is only limited by his owners' less-than-perfect shooting and their lack of experience with versatile dogs.
In the house, Buddy is calm and well-behaved, while occasionally "window hunting" in hopes of seeing something interesting. He does not hesitate to let us know when a squirrel shows up at one of our bird feeders or when a rabbit is hiding under an evergreen tree. He absolutely loves to be outside and is ready to go out the moment Lucinda or Jon move toward the door – no matter the weather. Buddy enjoys his outside run and pen, but is happiest when running free and exploring the farm fields, nosing along the bluff side trails, and checking out the creek with Lucinda.