IntCH/NatCH Fuglejaeger Dixon (Jax) was whelped on October 19, 2016 and imported from the Fuglejaeger Kennel in Denmark owned by Henrik Søgaard Jørgensen, along with his brother, Scout, and two other siblings. His dam is Hedescov's Judy and his sire is the famous Pixer Jixer de Chesannehof from the Netherlands. Pixer Jixer is considered one of the best studs worldwide (more about Jixer).

Jax arrived at his home in Minnesota at 10 weeks old, where he lives in the house with his owner, Nathan Freshour, and Nathan's 10-year-old son. When his owner comes home from work, Jax races to grab as many things as possible in his mouth to greet him. Shortly afterwards, he settles down and lounges around the house. Jax is very calm and quiet in the house. He will quietly keep an eye on all the neighborhood dogs and squirrels from the window, but he rarely barks. His owner takes him everywhere, including his grandmother's nursing home. He loves meeting new people and received his AKC Canine Good Citizen title at 9 months of age.

Jax earned his IABCA International Champion title in conformation on November 5, 2017 and his National Champion title on April 14, 2018. Jax has a dense, soft coat and is well-furnished. Many people have commented on how beautiful Jax is and once they pet him they note how soft and silky he feels. Jax is slender, but very toned and athletic. His hip laxity scores are in the 90th percentile for Small Munsterlanders.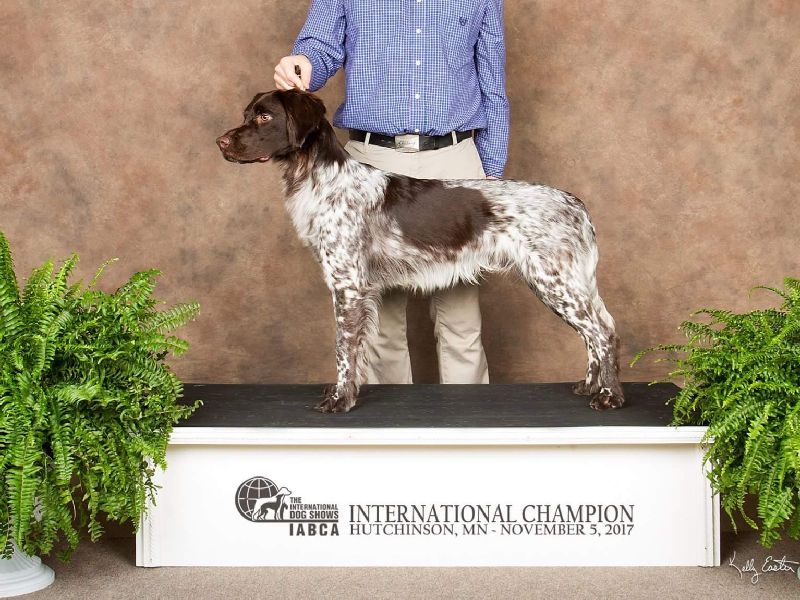 Jax is hunted nearly every weekend during hunting season. Jax is used to hunt goose, duck, woodcock, ruffed grouse, pheasant, dove, bobwhite quail and when the birds aren't flying, he hunts rabbits. Jax is relentless in the field. He will bust through cattails to track a pheasant and he will run all day in the blustery northern Minnesota forests. His cooperation in the field goes above and beyond what his owner was expecting. Jax will hunt as far out as 100 meters, but routinely checks back with his owner. He hunts the field systematically and methodically.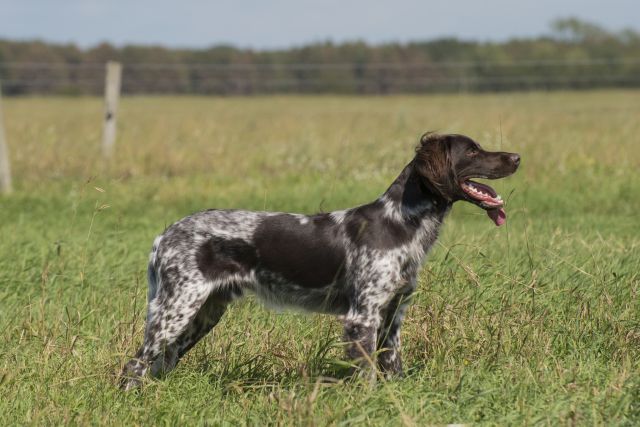 Jax has been extensively performance tested and has always obtained great scores. He completed his AKC Pointing Junior Hunter Title at 7 months of age. The following day he obtained a NAVHDA Natural Ability Prize I. In the Fall, he took the VHDF Hunting Aptitude Evaluation where he earned an excellent score of 65. The following Spring, Jax took the JGHV VJP test receiving a superior score of 75 and in the Fall passed the HZP Test. In September of 2018 at age 23 months, Jax earned a score of 201 and a Prize I in the NAVHDA Utility Test. His owner plans to continue testing him at the highest levels in NAHVDA, VHDF and JGHV.