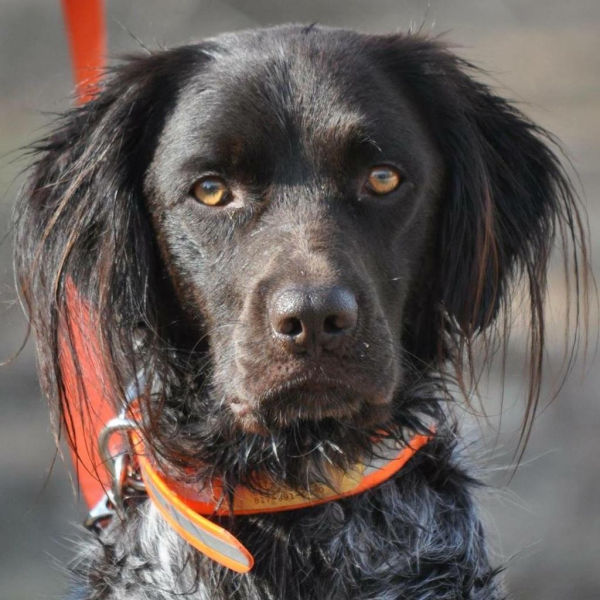 IntCH/NatCH Brush Dale's Ego Trip (Mickey) was born at Brush Dale on 10/20/12 as part of the
E Litter
. He was selected from his litter as a potential breeding male because of his exceptional physical structure and temperament as a puppy. Mickey's sire is
Borovice Zatoka's Chaska
and his dam is
Cendy's Riverhills Anna Die Jagerin
. Mickey earned his National and International Titles in Conformation at the IABCA International Conformation Show in Glen Rose, Texas on 8/20/16. Mickey is the sire of
IntCH Brush Dale's Not For Sale (Nikki)
. Mickey is owned by the Gregory & Cynthia Kadesch family of Haslet, Texas and lives in their home.
Mickey has a sleek, dense, soft, roan coat. He appears very dark in coloring because he is so heavily patched. He has beautiful and correct furnishings (feathering) on the tail, ears, forelegs and hindlegs. Mickey weighs approximately 45 pounds and is of average height for a male Small Munsterlander. He is masculine-looking, with very good physical structure and conformation.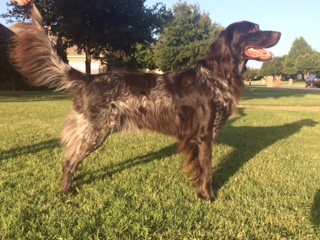 Mickey is a tireless, energetic but cooperative dog in the field who willingly hunts in close when required to do so. His owner hunts upland birds, waterfowel and fur with Mickey. He has no fear of working in thick, tangled cover and will not leave game in the field, no matter how long it takes nor what he needs to go through to make the retrieve. His NAVHDA Utility Water Search is an amazing thing to watch. Mickey will relentlessly search for and pursue wounded game through open water and into the heaviest of waterfowel marsh conditions, making the UT Water Search portion of the Test a breeze. He absolutely loves the water and being wet. He relishes hunting or training in the rain and will even sit outside in the rain so he can watch the birds flit from tree to tree.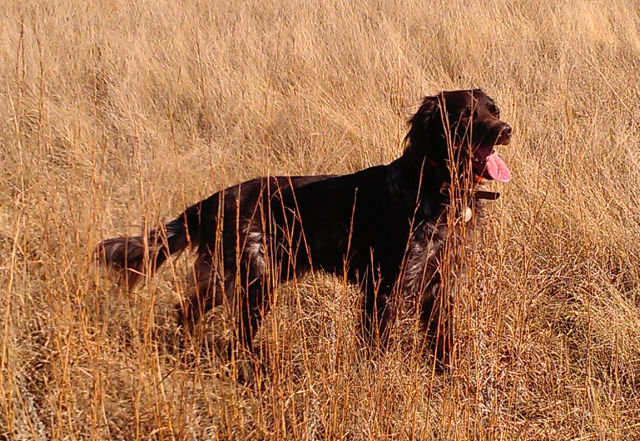 Mickey is an excellent tracker with a terrific nose and is very persistent when tracking down cripples. His ability to scent game makes even the strong winds of the Texas grasslands no match for his nose. Mickey has a staunch, correct point for a Small Munsterlander and is an exceptional natural retriever. Mickey has laut on fur (he barks).
Mickey was an exceptionally easy dog to train. He seemed to just do it all naturally. His owner, a first-time NAVHDA Handler, ran Mickey in his first Natural Ability Test and scored a respectable 94 points, earning him a Prize III at age 5 months! Mickey ran the NA Test again at age 11 months and scored 110 points and earned a Prize I !! At just 2 years/1 month of age, his owner ran him in the Utility Test and although he didn't prize, he made an excellent showing. His owner plans to have Mickey retake the Utility Test soon.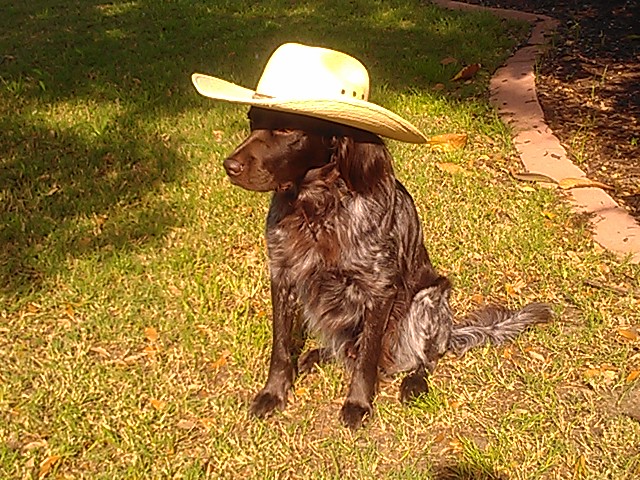 As much as Mickey loves being in the field or water, he equally enjoys spending time in the home with his owners and their 3 girls. He doesnít mind being a pillow for the 4-year-old while she watches cartoons or playing Hide-and-Seek with all three girls. Mickey never loses at that game, because he has learned each of their names and their unique smells. He finds them every time ... no matter how well they hide!
Every time you walk through the door, Mickey will briefly greet you, then heíll run to pick something up and bring it to you, just to see your excitement. He always makes the neighbors jealous when he runs out in the morning and brings in the newspaper. He loves to curl up next to you and be petted or to sit by your feet while you read a book.
When Mickey isnít playing with the girls or getting some lovin' on the couch, you can find him looking out the front window watching the birds and rabbits on the front lawn. You can almost sense what heís thinking while heís peering through the window, "When are we going to go hunting again?"