Brush Dale's Courage Under Fire (Smokey) was born at Brush Dale on 11/11/11 as part of the
C Litter
. Smokey's sire is
Charly Von Sandloh
and his dam is
Gosch's Kathryn Die Jagerin
. Smokey earned his International Champion title at the IABCA International Conformation Show on 8/16/15. Smokey is owned by Mark & Annette Alexander of Eldridge, Iowa and their two teenage children. He lives inside the Alexander family home.
Smokey has a sleek, dense, soft, roan coat. He appears very dark in coloring because he is so heavily patched. His coat is correct for a Small Munsterlander, being fairly short and tight on the body with furnishings (feathering) on the tail, ears, forelegs and hindlegs. Smokey weighs approximately 55 pounds and is of average height for a male. He is a masculine-looking male, with very good physical structure and conformation.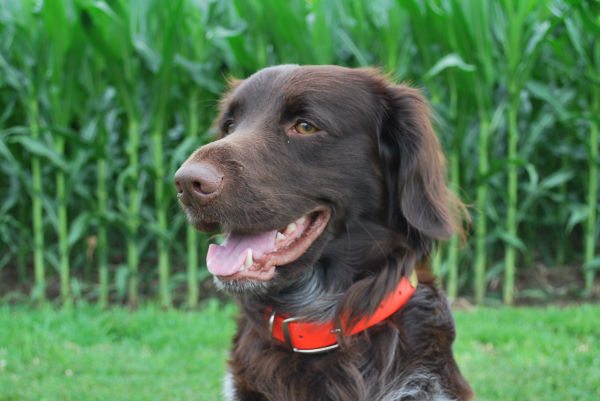 Since Smokey's owners live so close to Brush Dale, Smokey did much of his early training here and comes to visit often. Therefore, we know Smokey well. His owners say he starts getting excited on the drive here when they are still at least 10 miles away. Yet, after a morning in the field, he will calmly lie chained behind his owner's truck. Smokey is a very sweet, gentle and friendly dog. He is more-than-happy to be petted by anyone, but he will bark to alert his family when people come to the door of their house.
Smokey is a tireless, energetic but cooperative dog in the field who willingly hunts in close when required to do so. Because he lives next door to a public hunting area that is usually flush with pheasants, he is hunted frequently by his owner. He has a staunch, correct point for a Small Munsterlander. He loves the water. When he was a puppy, his owner had a difficult time getting him to come in off the pond from chasing ducks when it was time to go home. Smokey has laut on fur (he barks), which may soon become a requirement for breeding dogs if FCI accepts the German Breed Club's proposed revision of the FCI Standard.
He is an excellent tracker with a terrific nose and is very persistent when tracking down cripples. His owner has never left a crippled bird in the field because it could not be found. Like his mother and siblings, Smokey is an exceptional natural retriever. With one understandable exception, Smokey has retrieved every bird to hand that has been shot over him, without any forced retrieve training.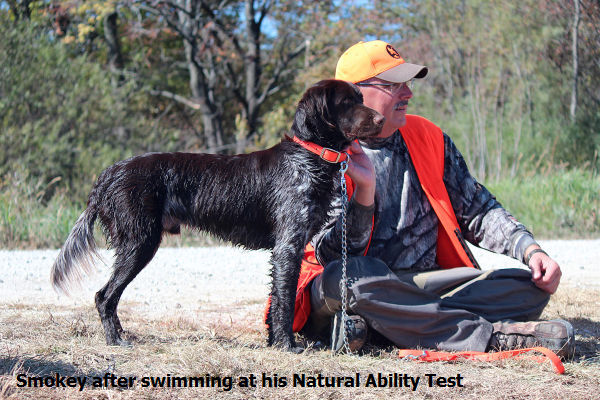 Like most Munsters, Smokey is a very cuddly dog who loves attention and thinks he's a lap dog. His owners say he has a "Jekyll & Hyde" personality. In the home, he is calm, patient and relaxed. He spends much of his day lounging in front of the fireplace. But as soon as his owner puts on his boots or picks up a leash, Smokey gets extremely excited because he knows he's going hunting, training, or for a run. He's an angel in the house and a demon in the field.
Smokey has his owners well-trained. Without exception, Smokey greets them at the door when they arrive home from work, expecting a few moments of rough housing and back scratching. Next comes the "Dog Biscuit Search." Smokey is commanded to "Wait" while a biscuit is hidden outside. Once he's released with an "OK," stay out of the way, because he is going to find that biscuit! It is far too easy for him to simply track his owner's scent trail, so the biscuit must be thrown into cover to make it even a little bit challenging. On days when his owners aren't able to hide the biscuit, Smokey will still eat it, but he definitely misses the fun of the "hunt."