Anna was born on September 26, 2007. Both Anna's sire,
Dexter vom Munsterland
and dam,
Cendy Von Der Fuchs-Heidi
are German imports. Anna has a dense, soft, silky, medium-length, slightly wavy roan coat. Her coat is correct for a Small Munsterlander. She has
russet brown
eyes and an expressive face. Anna weighs about 50 pounds and is of average height and length for a female (approx. 21 inches tall and 23 inches long). Unfortunately, we don't have many photos of Anna that do justice to how pretty she really is.
THE HUNTRESS
Anna breezed through her NAVHDA Natural Ability Test at age 7 months, earning a 112 points and a Prize I, which is the maximum score. Whether in the field or in the water, Anna is a tireless hunter, an exceptional tracker, and an oustanding natural retriever. She uses her nose extensively, winding, tracking, and searching. In the field, she runs fairly big and covers a lot of ground quickly, unless we're hunting in dense cover. Under those conditions, she shortens her range and works closely to the gun.
She tracks as well in the water as she does on land, and swims as well as she runs. Not only is she skilled at marking and making water retrieves, she absolutely loves it.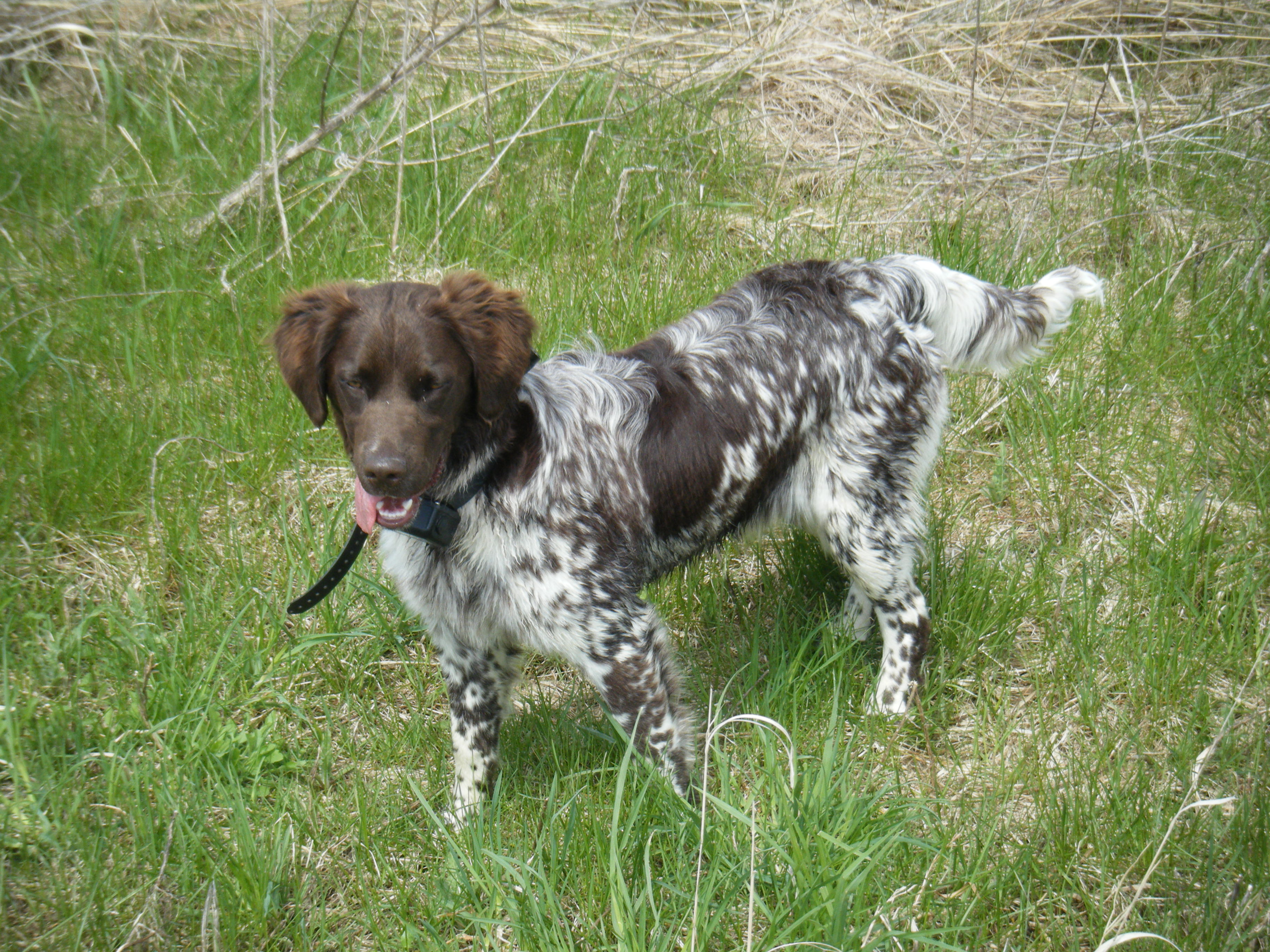 Anna has a very soft mouth, retrieving pheasants, quail, chukar, and ducks, without putting so much as a toothmark in them. If the bird is alive when she picks it up, it will still be alive when she delivers it to you. Anna is a relentless retriever. She will track a wounded pheasant as long and as far as it takes, and has made some amazing retrieves of pheasants that have fallen over the bluffs to the floor of the creek bottom.
It's unmistakeable when Anna's on a bird. As she closes in on the scent of a pheasant, her tail begins to wag back-and-forth at an ever-increasing speed. As she gets nearer to the bird, she slows her pace, and her body gets closer and closer to the ground, until she's practically on her stomach. During one of our guided hunts, Anna's points were nicknamed belly points by the hunters.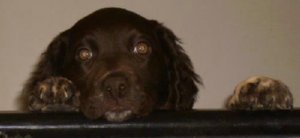 Anna has a stylish, intense point. Depending upon the circumstances, she may stop on a dime from a full run and lock on point, or she may approach cautiously and establish point from several feet away.
One of Anna's greatest strengths is her high level of cooperation in the field. No negative reinforcement, nor yelling, is needed, just verbal queues as to direction, distance, and pace. People who have hunted with Anna and Michelle are amazed by Anna's grasp of the English language and seeming ability to read Michelle's mind. She is truly a pleasure to hunt with.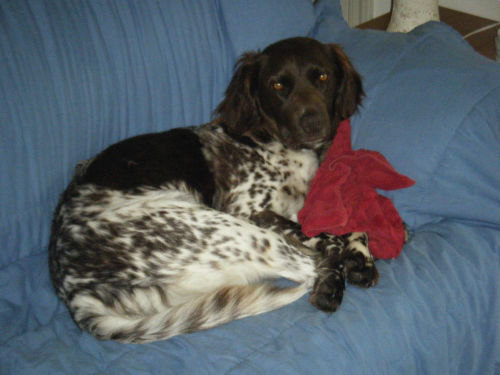 THE HOUSEPET
Anna lives in the house, as do all our dogs, although she spends much of her time in our yard, which is enclosed by a wireless fence. In the home, "Anna Bear" is extremely calm, sweet, unassuming, gentle, friendly, and loving. She is an obsessive face licker who will do just about anything for a kiss. She loves everyone, including small children, and gets along well with all members of the household, including Cleo, our Siamese cat. She has passed the AKC Canine Good Citizen test. Although Anna is very quiet in the house, she will bark if someone pulls into our driveway or comes to the door. And she goes completely nuts when Mark pulls in the driveway after work, because she knows it's time for her daily run.
Anna can be quite comical. She often eats while lying down. She likes to sleep in the basket of dirty laundry. She is obsessed with the kitchen dish towel and the hand towel in the bathroom - after they've been used, of course. She pulls them down off the racks and carries them into the living room, where she uses them for couch pillows. If left in the house for a few hours, upon your return you'll find several towels on the couch. Anna is equally enamoured with Mark's socks and she can be quite sneaky about it. She'll quietly grab something of Mark's out of the laundry basket on her way out the door, without anyone noticing. Later we'll find it in the yard. Similarly, Anna won't come in or out of the house without bringing something with her. Usually it's a stuffed toy or a pair of socks, but it might also be a big, dirty, old bone. If she gets to the door and realizes she doesn't have anything to bring in/out, she makes you wait while she goes and finds something.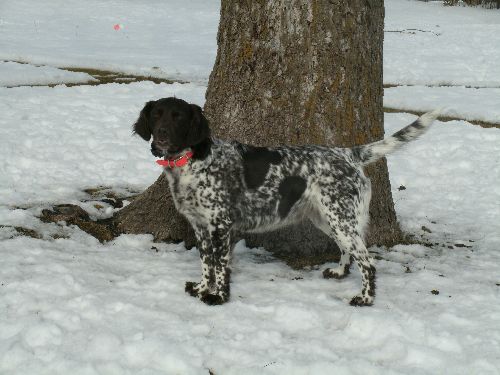 THE HOMEMAKER
Anna is a terrific mother. She is so obsessed with keeping her whelping box clean that she attempts to bury any dirty spot she finds inside it. In so doing, she'll cover her puppies with the whelping pads and then unknowingly lie down on top of them. Michelle has to keep a constant eye on the litter, even carrying a baby monitor with her around the house for the first couple of weeks, so that Anna doesn't uninentionally smother her puppies. Leaving the litter alone, even for a few minutes, is unthinkable. Anna keeps her puppies well-fed and absolutely spotless. Once her puppies really start getting around (at about 4 weeks), Anna begins her life lessons. A growl and nip means, "you're annoying me, get away," which all puppies must learn in order to stay out of trouble when they begin meeting new dogs out in the world. When the puppies begin venturing outside, Anna will slowly guide them toward interesting bushes and trees, teaching them how to hunt. Anna also has her own unique (and hilarious) method of weaning her pups. She'll pick up a toy from inside their enclosure, entice them to chase her outside and around the yard, then she'll pick up speed, outrun them, and jump out of their enclosure.