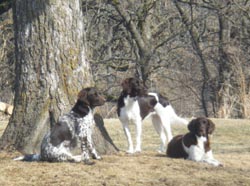 The Small Munsterlander Pointer, one of the four original versatile hunting breeds, is the perfect all-around gun dog and household companion. The Munster (pronunciation: 'mün-st

r)(loosely: 'moon-stur) can efficiently carry out the duties of a pointer and retriever of both fur and feathered game from land or water.

With an increase in the number of hunters and hunting enthusiasts, and the systematic cultivation of game stock resulting from a change in the German hunting laws during the middle of the 19th century, the breeding of new German Pointing Dogs began. There are reports saying that around 1870 long-coated

Wachtelhunds

(German Spaniels) were well known in the Munsterland region. These dogs were firm in pointing; had enormous scenting abilities; and were also able to retrieve. In 1906, the well-known poet, Hermann Löns, made a public appeal in the magazine

Unser Wachtelhund

to give him a report on the still existing specimens of the red Hanovarian Heath Hound. As a result, he and his brothers discovered a pointing Wachtelhund they called

Heidewachtel

. The Löns brothers and other well-known dog breeders, like the Baron of Bevervörde-Lohburg, put efforts into getting Heidewachtel breeding stock into other regions in Germany as well. Mr. Heitmann, a teacher from Burgsteinfurt, achieved first success with his line breeding. Several other lines, known as the so-called 'Dorsten type', appeared during the following years in Westphalia. On March 17, 1912, the Verband für Kleine Münsterländer Vorstehhunde (Club for Small Munsterlander Pointing Dogs) was finally founded. At that time, the Club expressed its aims as follows: "The Club pursues the purpose to promote the purity and the true breeding of the long-coated small pointing dog that has been bred in the Munsterland for many decades." A lack of fixed breed characteristics at that time inhibited breeding activities as well as Club activities. Starting in 1921, breeders finally began to follow the breed standard drawn up by Mr. Friedrich Jungklaus. Nevertheless, the true origin of the Small Munsterlander Pointing Dogs has not been proved. [Read more about the

history and origin of the Small Munsterlander Pointer

.]

In addition to being a tireless hunter, the Munster was developed to double as the family pet and watchdog. The Munsters of today do far more than just hunt. Because of their superior scenting and tracking abilities, Munsters are being used for Search and Rescue (finding lost people). And, because of their high intelligence, cooperative nature, and calm demeanor, Munsters are being used as Service (Assistance) Dogs.

For 40 years, beginning with Dell's "Original Pete," we used German Shorthaired Pointers to hunt pheasant, quail, chukar, and ducks. For about 10 years we raised and trained GSPs, specializing in solid livers. Then, in 2006, while researching on the Web to purchase a female GSP for breeding, Michelle ran across an advertisement for a litter of Small Munsterlander Pointers.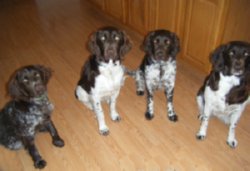 Being completely unfamiliar with the SMP breed, Michelle began looking into them and what she found really piqued her interest. Over the next few months, Michelle did more research on the breed and spoke with several breeders in the Midwest about the SMP's cooperative nature in the field, and their calm demeanor while in the house. Although the GSP is an outstanding versatile hunting breed, an inordinate amount of time was spent training them to consistently hunt close enough to get a shot at wild pheasant on the Preserve's
Iowa Prairie
.
That Fall, we put down a deposit for a female from
Gosch Kennel's
litter planned for early 2007. We had third pick of the litter whelped on January 10th and eight weeks later we headed for western Iowa to pick up
KD
.
Within six months of bringing KD home, we made the decision to sell our GSPs and replace them with Munsters.
Anna
, from
Riverhills Kennel
, joined us in November 2007, and
Grace
, from Goodman's Eagle Point Kennel, arrived in May 2008. Last-but-not-least,
Abi
arrived in October of 2008 from
Riverhills Kennel
to complete our switch of breeding stock to the SMP breed. Sadly, Grace and Abi did not meet our high breeding standards and were sold as well-started hunters at age 2. Anna delivered our
second litter
in January of 2011, from which we kept
Tess
.