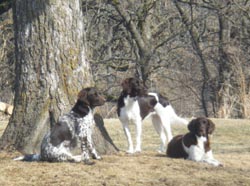 The Small Munsterlander Pointer, one of the four original versatile hunting breeds, is a wonderful all-around gun dog and household companion. The Munster (pronunciation: 'mün-st

r)(loosely: 'moon-stur) can efficiently carry out the duties of a pointer and retriever of both fur and feathered game from land or water.

In addition to being a tireless hunter and tracker, the Munster was developed to double as the family pet and watchdog. The Munsters of today do far more than just hunt. Because of their superior scenting and tracking abilities, Munsters are being used for Search and Rescue (finding lost people). And, because of their high intelligence, cooperative nature, and calm demeanor, Munsters are being used as Service (Assistance) Dogs.

For 40 years, beginning with Dell's "Original Pete," we used German Shorthaired Pointers to hunt pheasant, quail, chukar and ducks. For about 10 years we raised and trained GSPs, specializing in smaller-sized, solid liver GSPs. Then, in 2006, while researching on the Web to purchase a female GSP for breeding, Michelle ran across an advertisement for a litter of Small Munsterlander Pointers.